What is TPMS?
TPMS products mainly monitor tire pressure, temperature, acceleration, and other data, transmit the data to the receiver through radio frequency technology, and display the changes in each data on the vehicle display. TPMS can alarm the vehicle when there are safety hazards such as tire deviation from standard tire pressure, excessive temperature, rapid air leakage, etc. to ensure driving safety.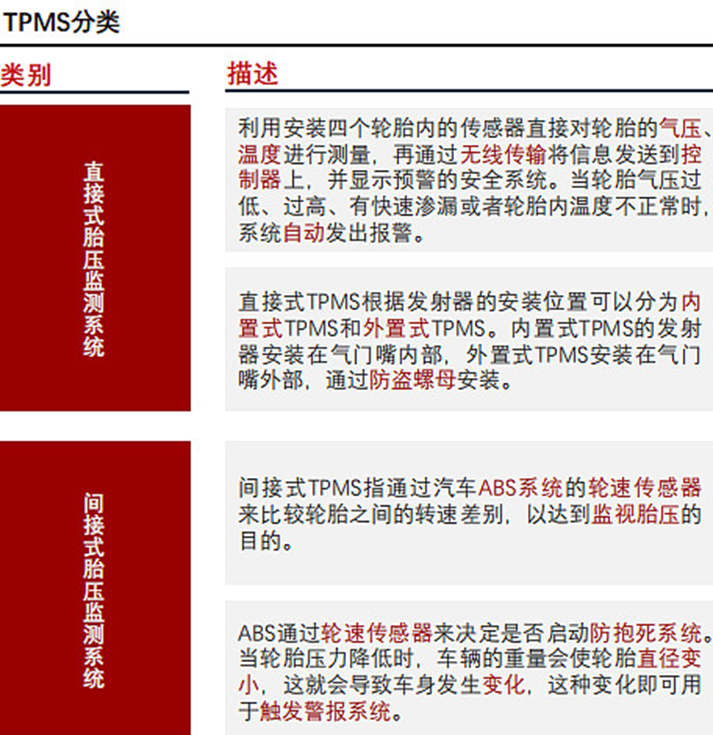 According to product category, it can be mainly divided into direct type and indirect type:
According to the installation stage, TPMS can be divided into front-mounted sensors and after-sales sensors. Front-mounted sensors are mainly supplied to OEMs, while after-sales sensors are mainly sold through the retail end to car repairers, 4S stores, and tire suppliers.
In terms of demand, TPMS is already a rigidly needed product for vehicles, and it is driven by policies and is required to be installed compulsorily.
As a mandatory installation product, TPMS has received widespread attention in the past two years, and many sensor companies and automotive solution companies have launched related businesses.
From the perspective of the industrial chain, the upstream of the TPMS industry is mainly chip suppliers, including foreign Infineon, Freescale, GE, etc., domestic Pingjie Electronics, Guangdong Hewei and NavInfo's Jiefa Technology; the midstream and downstream Mainly integrators, domestic players mainly include Baolong Technology, Wantong Intelligent Control, Daotong Technology, Tiejiangjun, Xiante, Tongyuan Electronics, etc.
As the auto market continues to boom in recent years, companies in the TPMS business have also gained considerable growth in 2023H1.
Baolong Technology: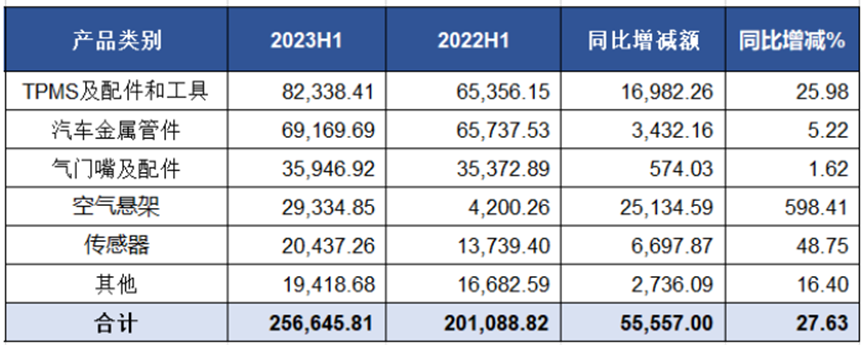 According to disclosures, during the reporting period, the company's new businesses such as air suspension and sensors grew rapidly, and mature businesses such as TPMS further gained market share. Compared with the same period last year, the company's main business income increased by 555.57 million yuan, an increase of 27.63%.
Wantong Intelligent Control:

According to its semi-annual report, Vantone Intelligent Control has achieved good results in both the pre-installation market and the after-sales market in terms of TPMS sensors and accessories. Customers in the pre-installation market include large domestic passenger car OEMs such as SAIC Group, BAIC Group, and Changan Automobile, as well as domestic motorcycle manufacturers such as Dongfeng Motorcycle, Loncin Motorcycle, and Lifan Motorcycle. In the after-sales market, the company develops a variety of programmable TPMS sensors for Europe, North America, China, and other regions, covering more than 95% of vehicle models, and implements online sensor upgrades at the user terminal. From the data point of view, although the revenue of TPMS sensors fell by 3.27% year-on-year, its gross profit margin was as high as 60.37% (a year-on-year increase of 11.67%).
Daotong Technology:

According to disclosures, the company's main business revenue in the North American market increased by 66.74% year-on-year, with a gross profit margin of 54.12%. The revenue growth was mainly due to the increased demand for digital energy charging piles, ADAS products, and TPMS products in the North American market during the reporting period, which drove rapid revenue growth. due to the rise.
To sum up, companies with TPMS as their main business have experienced growth (including revenue and gross profit), and their development and demand are relatively stable. In addition, Pingjie Electronics, which has realized the domestic replacement of TPMS chips, also completed a D round of financing of over 500 million yuan in July this year.
It is not difficult to find that although this track has received less news in recent years, it is actually in a state of "making money silently". As the supply and demand for passenger cars continue to boom, and the implementation of autonomous driving brings incremental growth to cars, the development of TPMS may also "take it to the next level" in the future.
IOTE 2023 The 20th International Internet of Things Exhibition Shenzhen Station will be held in the Shenzhen World Exhibition and Convention Center on September 20-22, 2023. Exhibitors can use the Internet of Things applications to display innovative products and solutions in smart homes, smart cities, industrial automation, smart medical care, etc., and show the audience the future development direction of intelligence, digitalization, and smart services. This will bring more in-depth understanding and experience to exhibitors, visitors, and professionals while promoting innovation and cooperation in the IoT industry, injecting new vitality into the construction of a smart society and the development of the digital economy. Now click the link below to sign up for the exhibition!
To register:https://eng.iotexpo.com.cn/sz/Visitors.html?source=YJ1