Recently, Infineon announced the acquisition of Zurich-based startup 3db Access AG (hereinafter referred to as 3db), which is a pioneer in secure low-power ultra-wideband (UWB) technology and has now become the preferred IP provider for major automotive brands. Infineon will acquire 100% of the company's shares.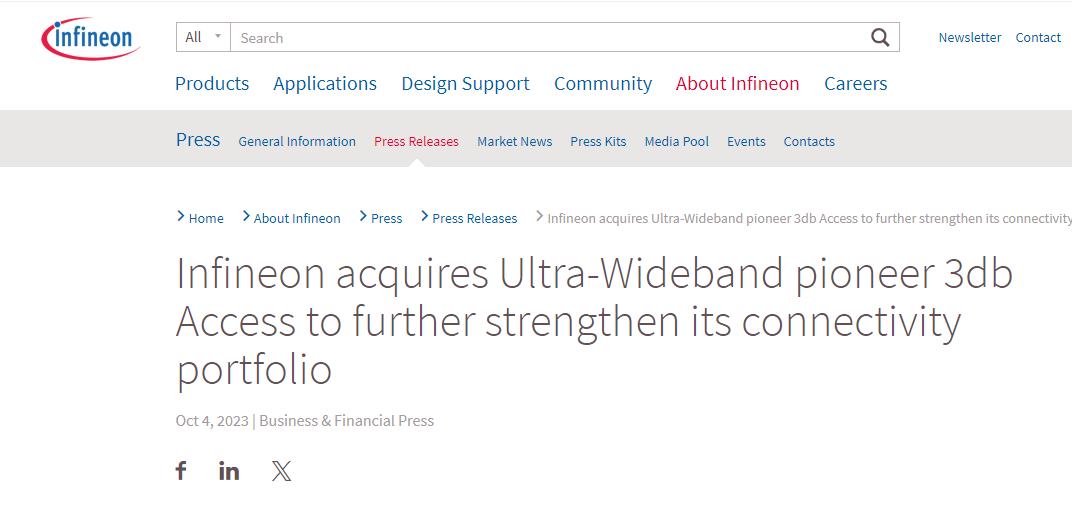 3db is a fabless semiconductor company focusing on secure ultra-wideband (UWB) low-power chips, headquartered in Switzerland. 3db pursues centimeter-level, low-power, and secure UWB positioning technology, and provides accurate and secure UWB positioning solutions through flexible cooperation models to enable access to applications such as vehicles, buildings, tracking tags, IoT devices, and mobile payments.
3db's products are divided into three categories: LRP UWB (low-rate pulse), HRP UWB (high-rate pulse), and HRP/LRP (IEEE 802.15.4z). Among them, low-rate pulse chips can be used in low-power IoT devices. Such as smart watches, wearable devices, sensors, etc.
Regarding this acquisition, Boris Danev, co-founder and CEO of 3db, believes that the application of UWB in C-end smartphones will continue to ignite the market demand for UWB. 3db will continue to explore the functional scenarios of UWB applied to smartphones and automobiles, and provide independent integration for low-power IoT devices. Based on Infineon's business growth curve, 3db will mainly target the major Internet of Things and automotive application markets, and at the same time transform into a comprehensive solution provider.
For 3db, Infineon's resources will help it focus on potential markets and expand its business direction. For Infineon, this acquisition will further strengthen its strength in the Internet of Things connection field while expanding a new growth curve.
Join us next year in Shanghai, and let's shape the future of technology together!
To register IOTE 2024 Shanghai station: https://eng.iotexpo.com.cn/sh/Visitors.html?source=YJ1