Although Bosch is a sensor manufacturer, it does not introduce sensors as an independent segment in the content. Instead, it classifies them according to application solutions and reflects the sensors in the solutions.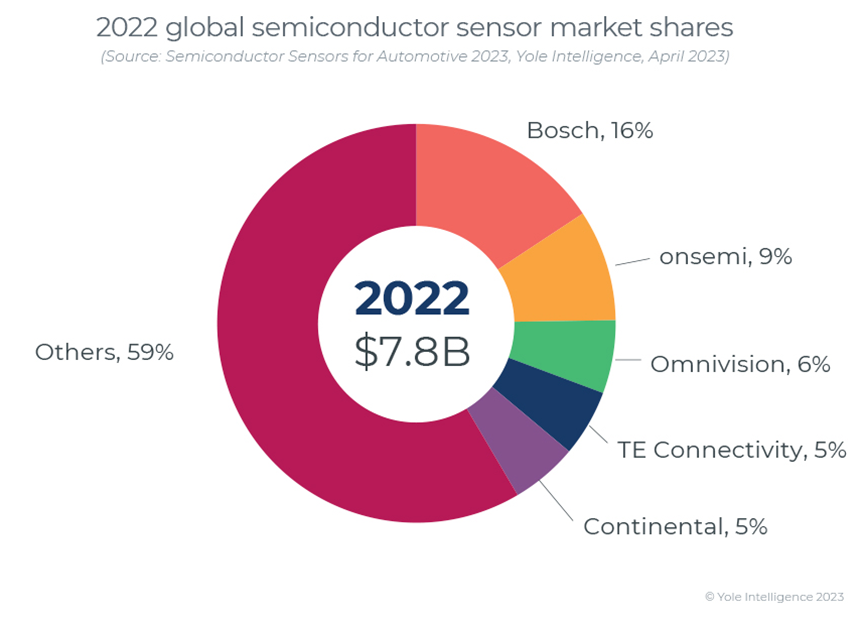 Overall, Bosch's application solutions are divided into four parts, namely Mobility Solutions, Industrial Technology, Consumer Goods, and Energy and Building Technology. The following subdivision has 14 smaller parts:

Divided into 14 small parts, the author found in some of them how Bosch's sensor products are reflected in the solution.
Powertrain solutions
The Powertrain Solutions segment provides products and solutions for powertrain technology in passenger cars and commercial vehicles, including off-highway vehicles: from gasoline and diesel direct injection to electrified powertrains with battery systems and fuel cell technology. For internal combustion engines, the segment's product portfolio includes solutions and systems based on diesel, gasoline, natural gas, ethanol, hydrogen, and synthetic fuels. These include the engine management system, fuel supply module, fuel injectors and pumps, ignition system, exhaust treatment system, and sensors.
Electric Drives
In the area of electromobility, the product portfolio includes solutions for passenger cars and commercial vehicles: components and systems for gasoline and diesel hybrid vehicles, fully electric vehicles, and vehicles with fuel cell powertrains. The product range ranges from electric motors, power electronics, battery systems (e.g. 48-volt batteries), and transmission technology to complete electronic axles. These compact units include electric motors, power electronics, and transmissions. For fuel cells, Powertrain Solutions offers individual components such as electric air compressors, hydrogen injectors, tank valves, control units, and sensors as well as battery packs and complete power modules. It also supplies hydrogen injectors, pressure regulators, and tank valves for hydrogen engines and tank systems.
Chassis Systems Control
Chassis Systems Control develops, produces, and sells braking systems, occupant protection systems, and vehicle dynamics sensors. Its braking systems include vacuum-based (conventional) and vacuum-independent brake boosters (boosters and decoupled power brakes), brake control systems (ABS, ESP®), and combined systems (integrated power brakes) as well as brake actuation device - wired system. Vacuumless brake boosters, integrated power brakes, and drive-by-wire actuators are also classified as "new braking systems". Among other things, these systems support major mobility trends such as electrification and autonomous driving, as well as new drive-by-wire architectures. The division's occupant protection systems include airbag control units and associated crash sensor technology. Its vehicle dynamics sensors include sensors that provide vehicle-related signals as inputs to active safety systems. In addition, the Brake Components business unit (Buderus Guss GmbH, Breidenbach, Germany) supplies brake discs for passenger cars.
Cross-Domain Computing Solutions
The Cross-Domain Computing Solutions division is responsible for responding to the automotive industry's rapidly growing software-intensive electronic systems and the changing needs of the market. Instead of many separate control units, the electrical/electronic architecture has evolved into a cross-domain, centralized architecture featuring a small number of on-board computers, but a very powerful one. Since January 2021, the division has brought together Bosch's software and electronics expertise in this area. It is responsible for the hardware and software of vehicle computers, sensors, and control units for numerous automotive applications such as driver assistance, autonomous driving and parking, and infotainment.
Automotive Electronics
The Automotive Electronics segment is an in-house manufacturing and engineering services provider of electronic control units and semiconductors (integrated circuits and sensors). At the same time, it manufactures semiconductor products and sensors for external markets. Its semiconductors for automotive applications range from application-specific integrated circuits to power semiconductors and MEMS sensors. In the field of consumer electronics, Bosch Sensortec GmbH in Küsterdingen, Germany, provides MEMS sensors for a variety of applications.
By understanding Bosch's business model, we can find that compared with traditional sensor companies, Bosch is completely different from internal structure to external sales. At present, many sensor companies still sell single products as their main sales model. Whether they are standard products or customized products, they also regard sensors as independent products.
But in fact, as times change, the importance of product scenarios has gradually become more and more prominent. Especially under the general trend of intelligent everything, sensor products are sold as single products, which is actually very unfriendly to some segmented scenarios. Moreover, when delivering products, the customer's understanding costs and subsequent maintenance costs will greatly increase.
Therefore, packaging and selling sensors in the form of solutions has quietly become an industry trend. This is actually not difficult to find from the financial reports of many sensor companies.
Join us next year in Shanghai, and let's shape the future of technology together!
To register IOTE 2024 Shanghai station: https://eng.iotexpo.com.cn/sh/Visitors.html?source=YJ1