Recently, patent operating company Sisvel announced that Huawei has joined its Cellular Internet of Things (C-IoT) patent pool.
Sisvel is a patent operating company founded in 1982, offering a pool of SEPs (i.e. standard essential patents) related to technologies including wireless cellular communications, digital audio and video coding, DSL, and Wi-Fi.
In November last year, Sisvel launched the Cellular Internet of Things (C-IoT) patent pool. Its initial members include ASUS, Datang Telecom, Ericsson, Mitsubishi Electric, NTT DOCOMO, Optis Cellular, Optis Wireless, Shanghai Langbo, Sony, and Unwired Planet...
The C-IoT Patent Pool provides a single solution for licensing standard essential patents (SEPs). Currently, Sisvel lists LTE-M and NB-IoT technologies as the primary supported technologies. The initial main focus of the C-IoT Patent Pool is smart meters and asset trackers.
Sisvel said LTE-M and NB-IoT are the cellular LPWAN IoT standards following the 4G LTE standard. Sisvel makes it easier for IoT device manufacturers to make balanced choices between available technologies by providing a clear framework for obtaining licenses under the LTE-M and NB-IoT SEP combination. The existence of the Sisvel patent pool will make the conditions for LTE-M and NB-IoT competitive, encourage the use of LPWAN cellular IoT standards, and help achieve fair competition.
In addition to the heavy addition of Huawei, the C-IoT patent pool has also added BlackBerry, Deutsche Telekom, Harfang IP, Philips, and an unnamed company to Sisvel's latest list of licensees. It can be seen that the IoT license pool operated by Sisvel is maturing.
Previously, when the patent pool was first launched, Sisvel gave two different standards: LTE-M and NB-IoT:

In this newly announced license rate, Sisvel has added a lower license rate for low-priced devices in the LTE-M part of smart sensor devices (asset trackers).
It is distinguished according to the different selling prices of the equipment: 0.08/unit for less than 6 US dollars, 0.35 US dollars/unit for 6 US dollars to 20 US dollars, 1.33/unit for 20 US dollars to 130 US dollars, and more than 130 US dollars can be negotiated separately.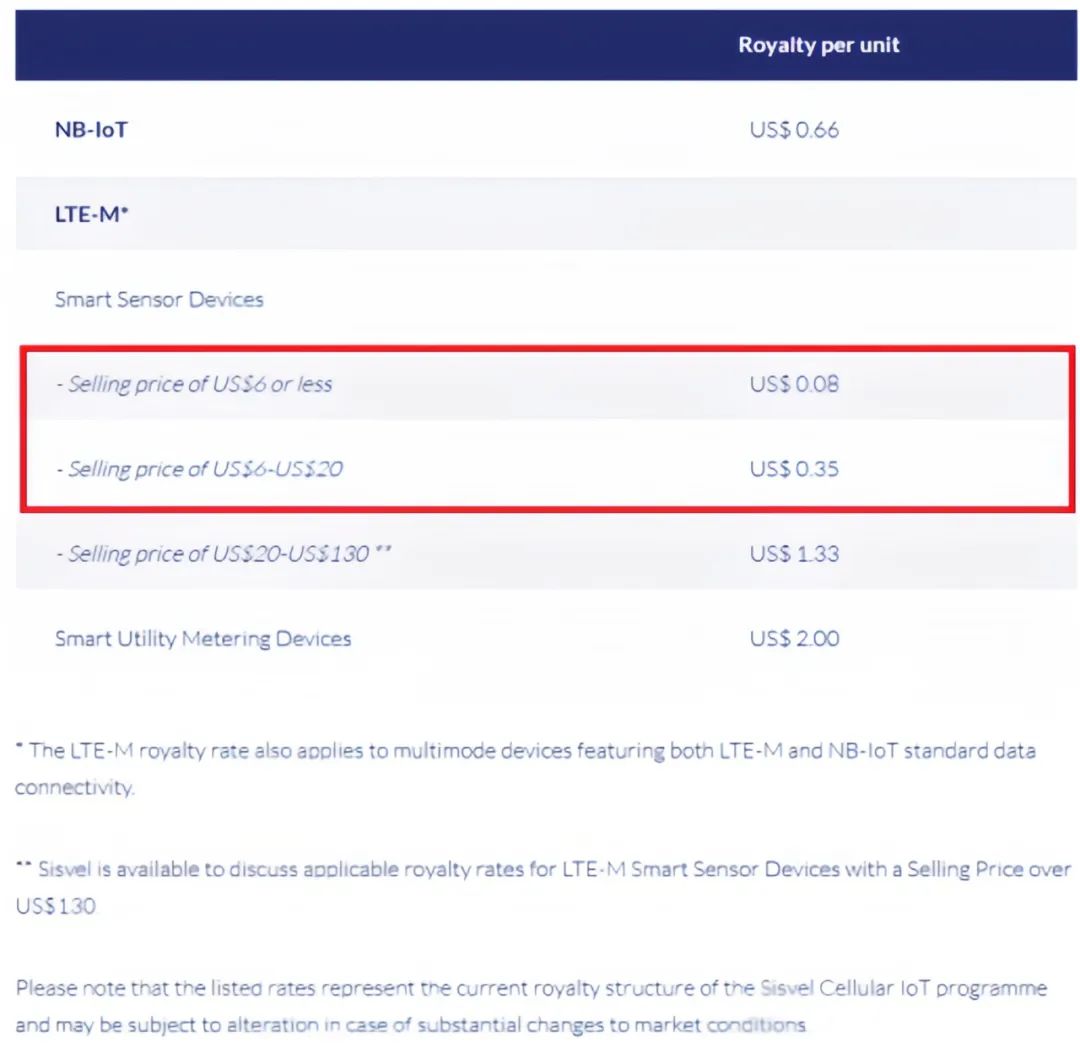 According to the latest rates, the patent fee for smart sensor equipment supported by LTE-M has been directly reduced by up to 16 times from the original unified US$1.33, achieving a large reduction. If converted into a percentage, the license rate for less than US$6 is within 1.3%, the license rate for US$6-20 is between 1.75%-5.8%, and the license rate for US$20-130 is between 1%-6.65 %.
According to the IoT Analytics report, NB-IoT (47%) and LTE-M (10%) already account for 57% of global LPWAN installations, while other LPWAN comprehensive competitive technologies account for a total of 43%.
This time Huawei joins the Sisvel cellular IoT patent pool, which intuitively reduces the LTE-M license fee, making the patent pool's rates more reasonable, and will also help the popularity of cellular IoT patent fees. while maintaining stable cost competitiveness. As for whether cellular and non-cellular can achieve market breakthroughs in the future, we will remain concerned.
Join us next year in Shanghai, and let's shape the future of technology together!
To register IOTE 2024 Shanghai station: https://eng.iotexpo.com.cn/sh/Visitors.html?source=YJ1