Fairview Microwave releases RFID antenna for asset and inventory tracking
Texas-based Fairview Microwave Inc. recently launched a new RFID antenna to provide enhanced performance for RFID applications, including inventory management, asset tracking, and identity verification. The company said the newly released antenna operates in the 900 MHz to 2,400 MHz range to ensure efficient and uninterrupted RFID tag reading. These antennas include SMA female, N female, and RP TNC male connectors and are compatible with most RFID readers.

These antennas also include right-hand circular polarization (RHCP) for high-quality signal reception and data extraction. The company said the new product features high gain performance, low voltage standing wave ratio (VSWR), and wide beamwidth to optimize read range and enhance the overall performance of the RFID system.
California tech company Splitcoin Inc. offers NFC mobile app for cryptocurrencies
California-based technology company Splitcoin Inc. has launched its latest self-custody solution for cryptocurrency users, allowing users to manually encrypt their seed phrases using a mobile app and NFC-enabled coins. It is reported that the company recently completed a design review of the "Splitcoin Manual Seed Phrase Encryption" white paper conducted by the Least Authority security consulting firm.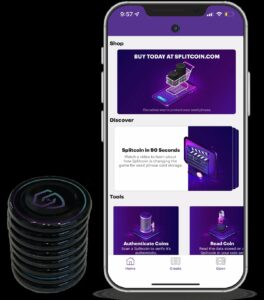 With this solution, users can create their seed phrases as vaults with manual encryption, using an automatically rolling codebook. Codebooks are unlocked by a unique vault key that can be split and stored on a set of NFC-enabled physical coins. If users want to retrieve their seed phrase, they can use their phone to scan the coin and enter their password. This allowed them to open the vault and then use the code book to decrypt its seed phrase.
The Splitcoin mobile app is available for iOS and Android devices. If desired, the application can be permanently placed in airplane mode to run on the device. To further increase security, it does not write or store data in an online location, such as a cloud service or database.
Join us next year in Shanghai, and let's shape the future of technology together!
To register IOTE 2024 Shanghai station: https://eng.iotexpo.com.cn/sh/Visitors.html?source=YJ1