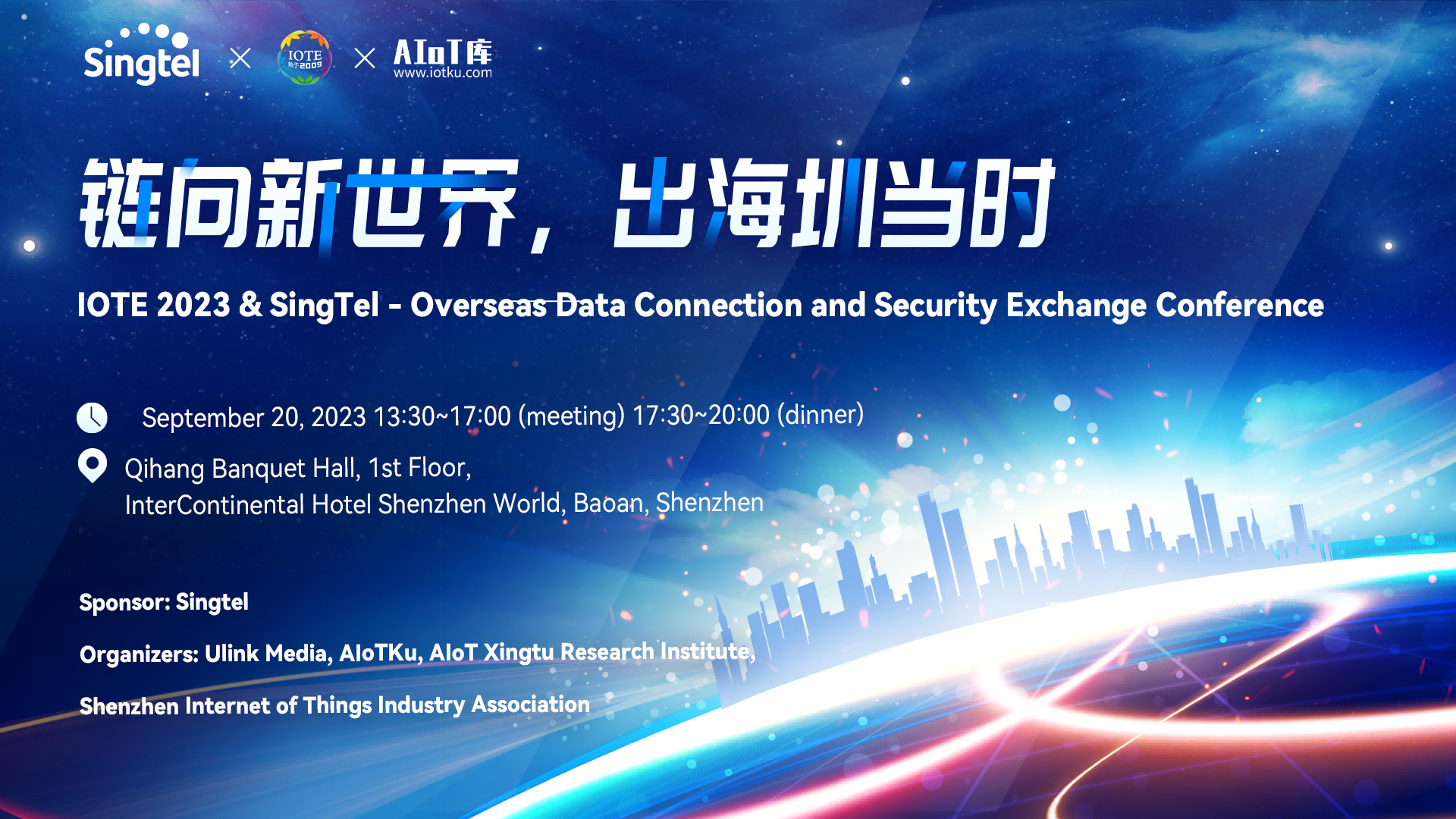 IOTE2023 & SingTel - Overseas Data Connection and Security Exchange Conference
Time: September 20, 2023 13:30~17:00 (meeting) 17:30~20:00 (dinner)
Venue: Qihang Banquet Hall, 1st Floor, InterContinental Hotel Shenzhen World, Baoan, Shenzhen
Sponsor: Singtel
Organizers: Ulink Media, AIoTKu, AIoT Xingtu Research Institute, Shenzhen Internet of Things Industry Association
Event Introduction:
As a founding member of the Bridge Alliance, Singtel is also a leader in IoT solution providers, offering roaming SIM cards and customized features covering 21 or more countries/regions.
One of the pain points of BYD Auto's overseas sales is that different countries have different laws and regulations, and the status of network operators is different. At the same time, it needs to meet the requirements of centralized data management and the consistency of customer experience. Singtel has won the trust of BYD with its competitive price and rich experience in delivery and maintenance and has become one of its reliable partners.
In this seminar, Singtel will share how to assist BYD Auto in solving relevant data problems and invite companies that already have a certain scale of international business and plan to expand international business to discuss the prospect of smart devices going overseas and the problems that need to be solved. Build a global cooperation bridge for enterprises to expand their international business.
Event Highlights:
1. SingTel shared the management difficulties and solutions of BYD's networked vehicles going overseas
2. Guests from CCID Research Institute shared their analysis of overseas market prospects
3. Excellent overseas companies such as uCloudlink and Jimi IoT share overseas MIFI, mobile locator, and CPE market conditions.
4. Set up an exchange dinner after the meeting, and invite some companies with plans to go overseas to discuss international business cooperation with each other
Event Agenda:
| | | |
| --- | --- | --- |
| | Content | Guest |
| 13:30~14:00 | sign in | |
| 14:00~14:30 | Overseas application market analysis | CCID Research Institute |
| 14:30~15:00 | International market success case sharing | Singtel |
| 15:00~15:30 | Discussion on the Development Potential of the International MIFI Market | uCloudlink |
| 15:30~16:00 | Overseas market potential of communication modules | Fibocom/Quectel/Youfang (to be invited) |
| 16:00~16:30 | Round table forum | |
| 16:30~17:30 | Free exchange/dinner check-in (invited guests) | |
| 17:30 | dinner | |
Dinner Participation Instructions: After you submit your participation information, we will contact you to confirm whether to participate in the dinner according to the remaining seats on the spot. If you are invited to participate in the dinner, we will prepare a separate ticket for you.