The IOTE 2021 International Internet of Things Exhibition will be held in Shanghai and Shenzhen next year. At that time, Shanghai ZLAN Information Technology Co., Ltd. (abbreviated as: Shanghai ZLAN) will attend as an exhibitor and show us its characteristic products and solutions!

Shanghai ZLAN Information Technology Co., Ltd
Shanghai World Expo Exhibition & Convention Center
Booth number: 3C88
April 21-23, 2021
Shenzhen Convention and Exhibition Center (Futian)
Booth number: 2C57
August 18-20, 2021
Shanghai ZLAN Information Technology Co., Ltd is a professional provider of industrial internet of things solutions, and the registered trademark ZLAN". Company products have passed through ISO9001 certification. Shanghai ZLAN products include: serial server, Internet of things chips, serial to Ethernet module, Modbus gateway, serial Wifi, DTU 2G/3G/4G, remote IO controller, optical fiber switches and all kinds of industrial interface converter.
Shanghai ZLAN has core technology in the IOT. ZLAN has the independent software rights of embedded TCP/IP protocol stack software - ZLIP, and in 2007 to obtain the national copyright registration (Registration No. 2007SR09907). ZLAN in the field of serial server, first developed a single chip serial server, the serial server core technology integration in a chip, we can directly provide the chip. ZLAN communication in the Internet of things proposed P2P serial server products, it is a new concept of networking, and has applied for national patent. In the multi serial server field, ZLAN with a new multi serial server design patent (Patent No. ZL 201420108890.3).
Featured Products
Fully isolated serial port server ZLAN5143I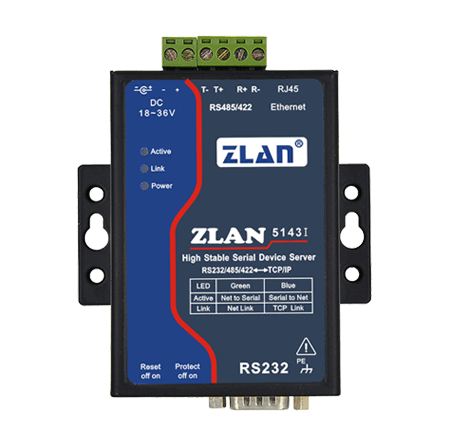 High-reliability, high-performance serial server/Modbus gateway product is the flagship product of serial server.
Highly reliable design for anti-lightning and anti-electromagnetic interference
Interface isolation: RS485 2500V power supply isolation, power supply 3000V isolation
Support both transparent transmission mode and Modbus gateway function
RS485 supports 256 slave stations
Shell grounding protection
Flagship product, stable and reliable
Rail type serial server ZLAN5143D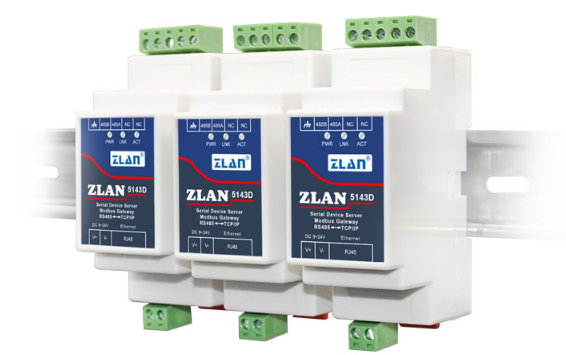 ZLAN5143D is a RS485 device data collector/IoT gateway specially designed for industrial environments. It combines serial server, Modbus gateway, MQTT gateway, RS485 to JSON and other functions in one. It has an RS485 interface and a 10M/100M Ethernet interface. It adopts guide rail type installation method, compact and easy to install.
Guide rail design, small size
Terminal type power supply, 9~24V wide voltage input
Support Modbus gateway function
Support MQTT gateway function
Support JSON to Modbus RTU and 645 instrument protocol
Support custom heartbeat package and registration package function
Single chip MQTT/Modbus gateway/serial server chip ZLAN1043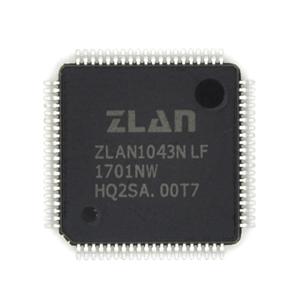 ZLAN1043 is a chip that integrates 10/100M Ethernet interface and UART serial port. The software integrates MQTT, Modbus TCP to RTU, Modbus RTU to JSON, serial to Ethernet and other protocols. Users do not need to develop software, and configure parameters through the network port. Ready to use.
Support serial port server function that converts ordinary serial port to Ethernet
Support Modbus gateway function
Support multi-host function, multiple hosts can access the same serial port
Support MQTT protocol, docking with various cloud platforms
Support Modbus RTU/DLT-645 to JSON mode to connect to various cloud platforms
No software development is required, and the device can be connected to the network quickly
4G CAT1 DTU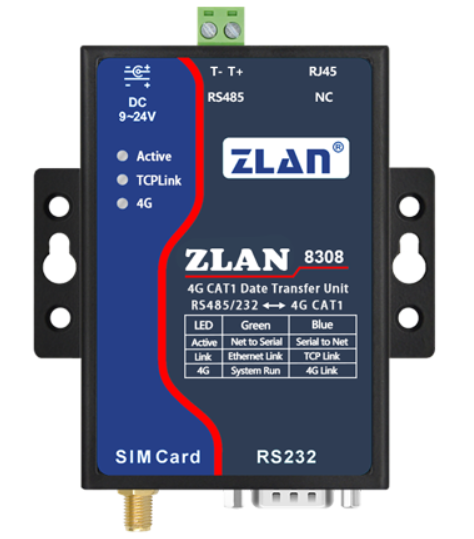 ZLAN8308 has the high performance-price ratio of ordinary CAT1 4G DTU and almost all the functions of high-performance 4G DTU:
Support Modbus RTU/DLT-645 to JSON mode to connect to various cloud platforms
Support MQTT, support 2G and 4G.
Support independent design of collection points, automatic data collection, and active upload to the platform
With RS232/RS485 acquisition interface
With equipment cloud management capabilities
ZLAN8305/8305L high-performance full Netcom 4G DTU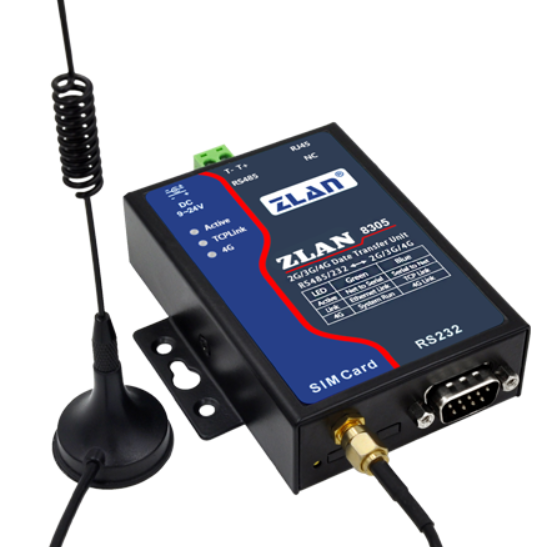 Support all Netcom 7 modes
Support MQTT
Support Modbus RTU/DLT-645 to JSON mode to connect to various cloud platforms
Support Modbus TCP to RTU
8305L supports two modes of Ethernet and 4G, and can be used as a rout
DIN rail type four serial port server 4 channels 485 to Ethernet ZLAN5443D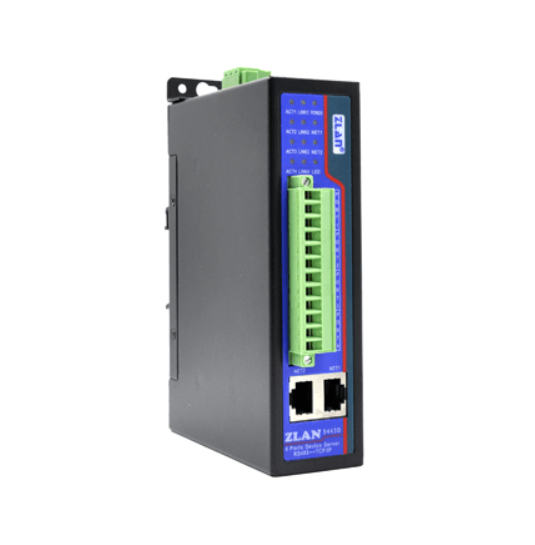 RS485 serial port optocoupler isolation, isolation voltage 1500V.
There are three ways to choose from: rail type installation, back plate mounting ear installation, and desktop mounting ear fixed installation.
Industrial-grade power supply mode.
Dual network port design supports cascading of serial server.
The 4 serial ports can be configured for different baud rates.
Support Modbus gateway function
LoRa to RS232/RS485/RS422/Ethernet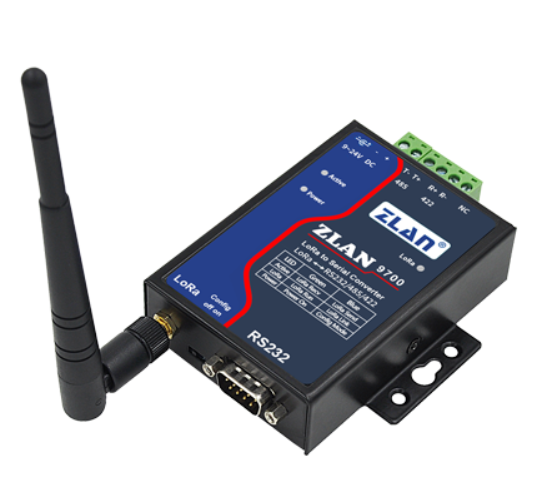 Long-distance LoRa communication solution, high performance and high stability. The communication distance is 6km~8km without obstruction outdoors.
Can realize LoRa to RS232/485/422.
Can realize LoRa to Ethernet TCP/IP protocol.
It can actively collect serial devices, and the network port can be connected to various public clouds
9~24V power supply, supports two power supply modes: plug and spool type.
ZLAN Cloud free IoT platform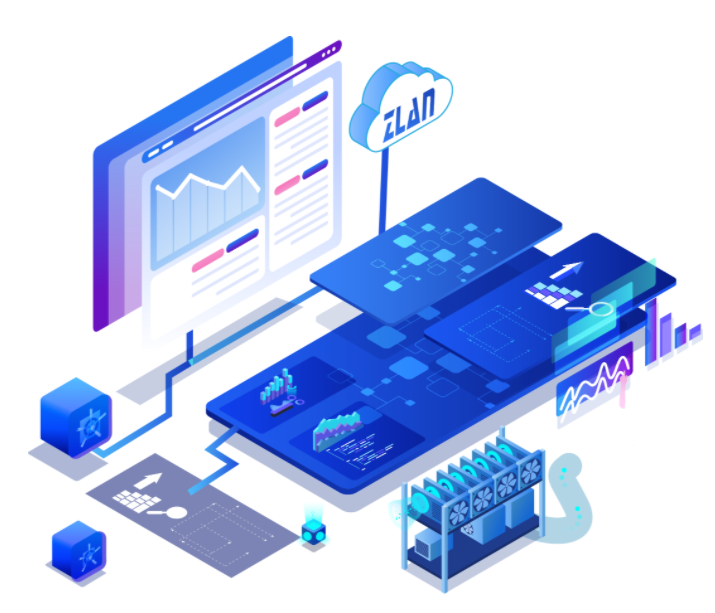 ZLAN Cloud is a free IoT cloud platform. Users only need to follow the steps to complete the registration to use ZLAN Cloud for free. Support PC, Android, iOS multi-platform terminals. Users can remotely access any serial device from anywhere, and perform real-time collection, monitoring, remote control, firmware upgrade, diagnosis, communication, and debugging on the data of the remote device. ZLAN Cloud supports WeChat association. Users can use the WeChat applet on the mobile phone to remotely view the operating status of the device, communication data and alarm information, and achieve easy control anytime and anywhere, which is convenient and fast.