In recent years, the shipment volume of vehicle components has seen a significant boost, including various chips and sensors. Among them, laser radar has unquestionably become a major trend. However, beyond automotive applications, laser radar companies have a plethora of options, as these products have been utilized in various industries such as security, industrial settings, agriculture, and surveying.
Today, what other markets are worth the attention of laser radar enterprises apart from the automotive sector?
Material Level Detection Still Holds Market Potential
Material level detection refers to the calculation of the volume or weight of stored materials in a specific space. Laser radar, in this context, is a product commonly used in material level detection scenarios. Laser radar-based material level meters, with advantages such as accurate measurement, unaffected by the surface conditions of the detected object, low power consumption, and cost-effectiveness, enable more efficient and precise detection in warehouse scenarios.
From an industry perspective, the sectors with currently large shipment volumes include livestock feed storage, agricultural grain storage, and industrial coal/stone storage. The combined shipment volume of laser radar in these three scenarios approaches a million units per year. However, different industries may experience fluctuations based on market dynamics, with livestock feed showing greater volatility and the industrial sector remaining more stable.
Drones Quietly Become a New Blue Ocean
Today, equipping drones with laser radar has become a standard practice, especially in the field of surveying. In surveying applications, a drone typically carries at least one laser radar, and relevant departments responsible for surveying procure such drones annually.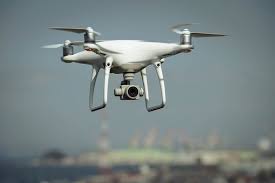 In the market, the shipment volume of industrial-grade drones is not yet substantial. Taking agriculture as an example, the shipment volume of drones equipped with laser radar is around 40,000–60,000 units per year. Key players in the industry include Huace Navigation, Zoomlion Shares, and Feima Robotics.
However, on the other hand, non-industrial-grade drones (i.e., consumer-grade) are emerging as a new blue ocean, with many manufacturers strategically positioning themselves. In other words, equipping consumer-grade drones with laser radar is a major trend. According to industry insiders, the current shipment volume of low-cost toy drones is in the range of 30,000–50,000 units per month, with unit prices staying below a thousand dollars. The possibility of equipping these drones with affordable versions of laser radar could bring a significant increase in volume if the logic of such consumer-level applications proves viable.
This paper is from Ulink Media, Shenzhen, China, the organizer of IOTE EXPO (IoT Expo in China)
Join us next year in Shanghai, and let's shape the future of technology together!

To register IOTE 2024 Shanghai station: