Chainway, a global leader in the AIDC industry, recently unveiled a new generation of handheld UHF RFID reader — the C5.
Let's delve into the hardware upgrades of the C5. As a next-gen handheld UHF RFID reader, the C5 features the advanced Android 11.0 operating system, a robust octa-core processor, expanded memory, and various wireless connectivity options. This not only provides users with a faster and smoother operational experience but also enhances the device's efficiency and reliability in handling large datasets and complex tasks.
One of the highlights of the C5 is its versatile data collection capabilities. In addition to its powerful UHF RFID reading performance, the C5 supports high-performance barcode scanning, NFC technology, dual PSAM card slots, front and rear dual cameras, and other data collection functions. This means that the C5 can not only meet the RFID application demands of the IoT era but also fulfill users' diverse data collection requirements across various industries, offering a comprehensive solution.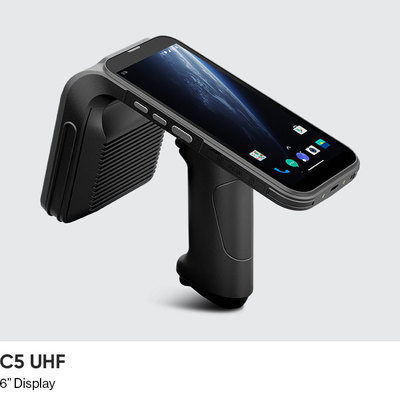 In terms of core technology, the C5 employs the powerful Impinj E710 chip and in-house developed RFID technology. This not only makes the C5 outstanding in tag reading distance and coverage but also utilizes a multi-tag anti-collision algorithm to further enhance throughput and high-speed tag inventory performance. Compared to competitors in the market, the C5 excels in group reading performance and stability, enabling users to efficiently carry out tag identification and data collection even in complex environments.
In terms of applications, the Chainway C5 handheld RFID reader finds widespread use across various industries, including banking, public security, warehousing, retail, logistics, and more. Its superior performance and stability provide robust support to these industries, helping users optimize workflows and enhance operational efficiency.
The launch of the Chainway C5 handheld UHF RFID reader not only signifies technological advancement but also brings a revolutionary innovation to the AIDC industry. With its powerful hardware performance, multifunctional data collection, reliable core technology, and rugged design, the C5 stands out as a highly anticipated advanced handheld device in the current market.
This paper is from Ulink Media, Shenzhen, China, the organizer of IOTE EXPO (IoT Expo in China)
Join us next year in Shanghai, and let's shape the future of technology together!

To register IOTE 2024 Shanghai station: