Murata will join 2019 The 12th International Internet of Things Exhibition (Summer Fair) from July 30 to Aug. 1 with their latest IoT products and technology of the Company. The booth number is 1A42.
Murata Manufacturing Co., Ltd. is a worldwide leader in the design, manufacture and sale of ceramic-based passive electronic components & solutions, communication modules and power supply modules. Murata is committed to the development of advanced electronic materials and leading edge, multi-functional, high-density modules. The company has employees and manufacturing facilities throughout the world.
Murata contributes to the advancement of society by innovating, designing and supplying components and solutions for a variety of markets and applications, and the markets for Murata's electronic components continue to grow. Smartphones currently account for 75% of the mobile phones sold worldwide, and it is predicted that the need for multiband LTE-compatible units will spread even further.
Advancements in electrification is forecast for the field of automotive electronics along with improved safety features like Electronic Stability Control (ESC) and the growth of built-in vehicle communication functions like infotainment. The overall demand for electronic components is also trending toward smaller sizes, thinner higher performance, and higher reliability. At Murata, in addition to component products, sales of the multilayer ceramic capacitors and piezoelectric components that are their core products, as well as of communication modules in which numerous parts are embedded using multi-component and multi-layer technology.
Particular strengths for Murata is micro capacitors and tiny, high-capacity capacitors used in smartphones and other communication devices, and the demand for high-reliability capacitors has been growing with the increasing use of vehicle electronics in the automotive field.
Products
Murata Announces World's Smallest, Most Efficient, Fully Integrated 6A Buck Regulator
Product Features
Featuring an input voltage range of 5.5V–14.4V and a programmable output of 0.7V–1.8V at up to 6 amps, the MYMGA1R86RELC2RA DC-DC converter is designed for 2-cell, 3-cell and 12V point-of-load applications where high efficiency, low profile and small solution size are essential. The module integrates all passive components, including bulk output capacitance, to meet exacting transient load requirements. As such, no additional external components are required for most applications.
With dimensions of 12 mm x 9 mm x 2 mm (L × W × T), the module footprint is 25 percent less than the nearest competitive solution and has a 30 percent lower profile. Furthermore, this buck regulator does not need any additional external components to meet stringent transient requirements, and so the typical solution footprint is approximately 50 percent of any alternative product.
In addition, peak efficiency exceeds 90 percent for 12V input to 1.8V output, which is more than 5 percent higher than competing products.
Other benefits resulting from this unique power architecture include an approximate 5X reduction in input ripple, lower conducted and radiated EMI emissions and a wide temperature range of -40 to +105 degrees Celsius with derating.

Target markets and applications include telecoms, base stations, networking switches, routers and micro-servers, SSDs, PCIE add-in cards and high- performance mobile computing platforms.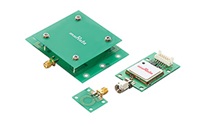 Starter kit
In order to evaluate the read and write function of RFID, we offer a starter kit (eval kit) consisting of a reader/writer module, reader antenna, evaluation software, and USB interface. It can easily be connected to your PC using USB interface, it is possible to quickly and easily check read and write operation.
Features
Optimum evaluation kit for users who have no previous experience with RFID
Uses a compact, inexpensive reader module
The evaluation software provided with this kit can be installed from Murata's website.
Conforms to the ISO18000-63 (6C)/EPC Global Gen2 standards.
Two types of antennas: For long distance/short distance
Has acquired certification in various countries (FCC/IC/ETSI/TELEC).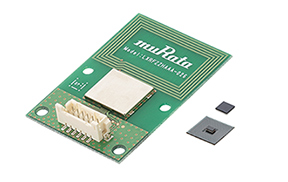 HF band RFID
This photograph shows RFID tags and a reader/writer intended for near-distance communication in the HF band (13.56 MHz). HF band RFID is used by public transport organizations and supermarkets, for example, for making payment, and is widely used in the form of contactless IC cards. Also, because data can be read using a tag in a smartphone, RFID can be installed easily without problem.
Since 2009, during the past 9 years, the scale of this expo has expanded fast with its influence far reaching. The event attracted 706 exhibitors and more than 101510 visitors in 2018, visitors are from 20 countries - China, Australia, Canada, Egypt, France, Germany, India, Iran, Italy, Japan, Korea, Malaysia, Pakistan, Portugal, Turkey, Russia, Singapore, Saudi Arabia, the UK and the US.
2019 (12th) International Internet of Thing Exhibition is a complete showcase of IoT industry chain, including IoT perceptual layer (RFID, Barcode, Smart Card, Smart Sensor), transport network layer (NB-IoT, LoRa, 2G/3G/4G/5G, eSIM, Bluetooth, WIFI, GPS, UWB) and Intelligent applications layer (Cloud, Mobile Payment, RTLS, New Retail, Industry 4.0, Smart logistics, Smart City, Smart Home). This exhibition expected to more than 70,000 square meters in area, more than1,000 professional exhibitors , and more than 130,000 professional visitors and purchaser.
Date:July 30 - August 1, 2019
Venue:Shenzhen Convention & Exhibition Center,Hall 1, 7, 8, 9
Register for IoTE 2018 Free Ticket: http://eng.iotexpo.com.cn/IOTUApply.aspx