King Pigeon Hi-Tech.Co.,Ltd. will join 2019 The 12th International Internet of Things Exhibition (Summer Fair) from July 30 to August 1 with their IoT device and technology of the Company. The booth number is 9D55.
Products
Name:GSM 3G 4G LTE Cellular IoT RTU (8DIN,6AIN/PT100,4Relay,1TH,USB,2 RS485,320 Extend I/O tags)
Model:S475
The Cellular IoT RTU provides 8 digital inputs, 6 analog(ultra high 24 bit resolution) or PT100 Resistance Temperature Detector (RTD) inputs, 4 relay outputs, 1 ambient sensor input for monitoring onsite temperature and humidity, 1 Ethernet RJ45 port for connect internet WAN or LAN, supports dual nano sim card,with 2 RS485 serial port, supports 320 mapping registers via Modbus RTU protocol.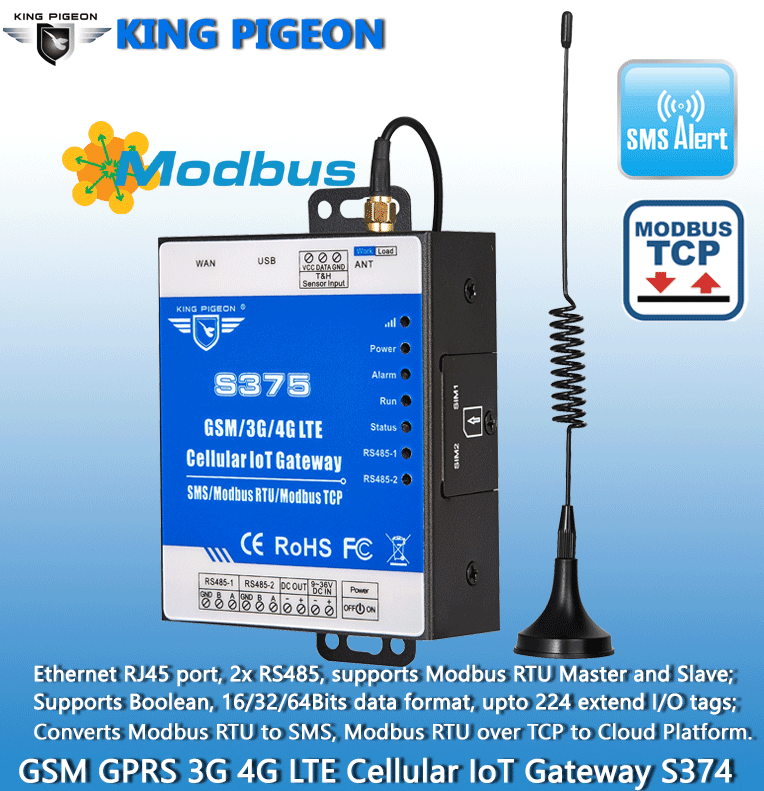 Name:GSM GPRS 3G 4G LTE Cellular IoT Gateway(Ethernet RJ45,1TH,USB,2 RS485,320 Extend I/O tags)
Model:S375
The Cellular IoT Modbus Gateway provides 1 ambient sensor input for monitoring onsite temperature and humidity, 1 Ethernet RJ45 port for connect internet WAN or LAN, and 2 RS485 serial port, supports 320 extend I/O tags via Modbus RTU protocol. It can monitoring and operates the RS485 ports and extend I/O tags by SMS, APP, Web Server, internet.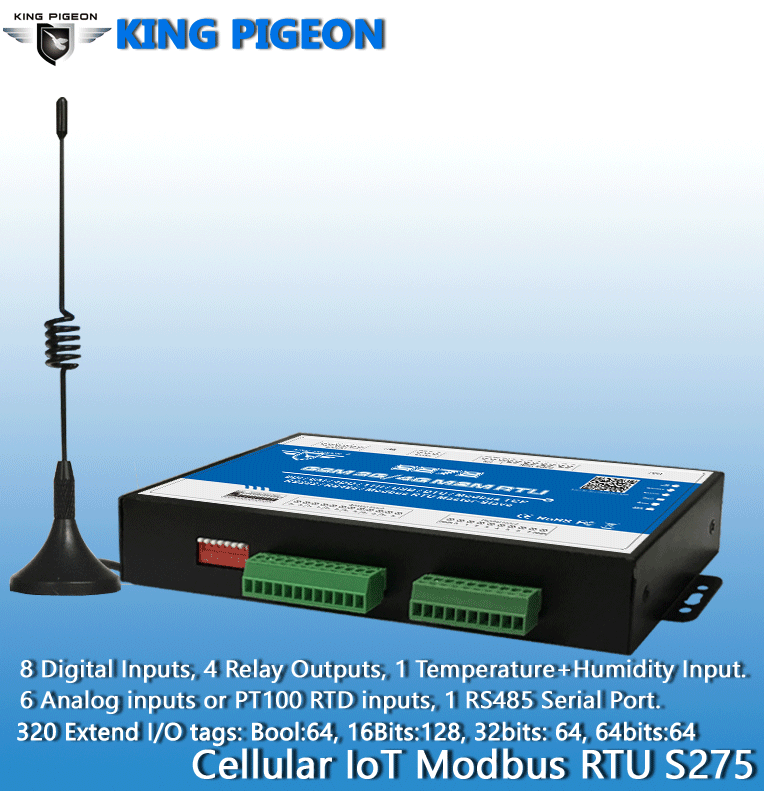 Name:Cellular IoT Modbus RTU (8DIN,6AIN/PT100,4Relay,1TH,USB,RS485,320 Extend I/O tags)
Model:S275
The Cellular IoT Modbus RTU supports transparent data transmission and performs as Modbus Slave over GPRS/3G/4G/NB-IoT network and RS485 serial port. Moreover, the Cellular IoT Modbus RTU can be used as Modbus RTU Master to reading smart meters, I/O modules, PLC, and converts to SMS alert once triggered the threshold value, or transmit data to remote server over GPRS/3G/4G/NB-IOT network.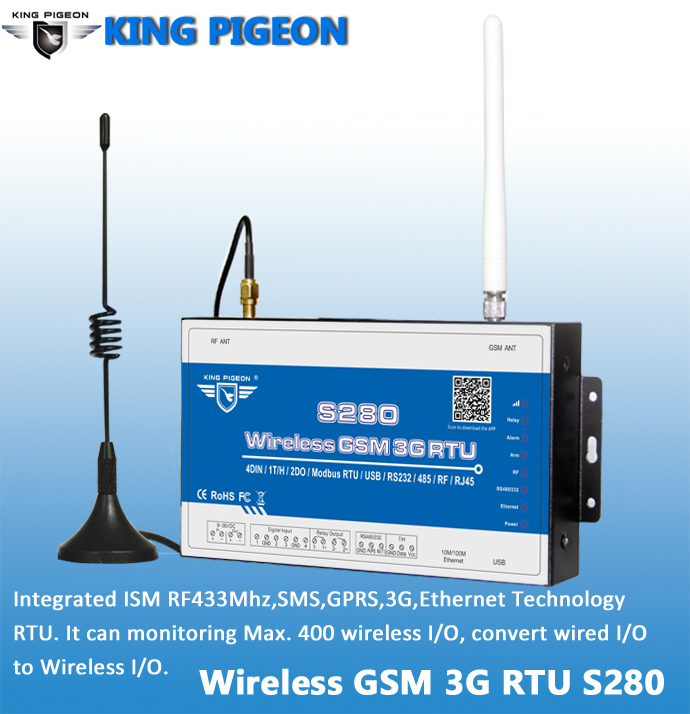 Name:Wireless GSM 3G 4G LoRa Gateway(433Mhz,SMS,GPRS,3G,Ethernet,RS485)
Model:S280
The Wireless GSM 3G RTU S280 can be used for monitoring maximum 400 distributed I/O endpoints though maximum 50 wireless Data Acquisition Modules by RF 433Mhz wireless network. Also it can be used as for converting the meters, transducers, Data Acquisition modules, PLC data via RS485 serial port to 433 MHz wireless network and then transmits it to GSM/SMS/GPRS/3G/Ethernet network.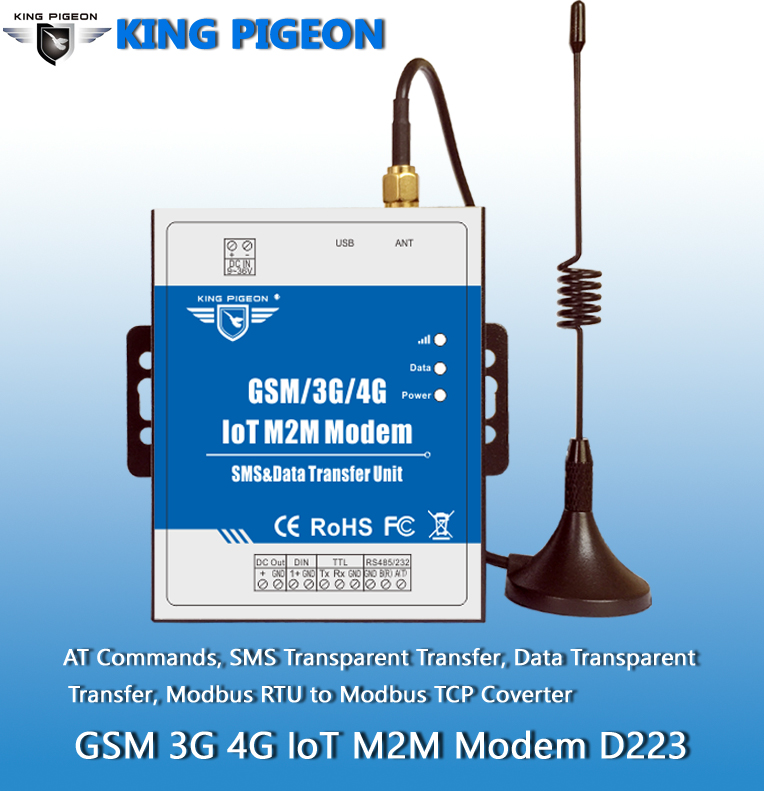 Name:GSM/GPRS/3G/4G IOT M2M Modem DTU
Model:D223
The GSM/GPRS/3G/4G IOT M2M Modem DTU D223 is a powerful and programmable multi-purpose wireless cellular modem and data transfer unit (DTU). It provides a secure, high speed, reliable wireless data transmission between com port and internet connection for customers over GPRS/3G/4G wireless cellular network. Also, it can be used as SMS modem and Modbus RTU to Modbus TCP converter.
Name:AIN+RTD Modbus RTU Remote IO
Model:DAM114 DAM116 DAM118 DAM120 DAM122 DAM124
The DAM11x is for measuring 2/4-channel analog input(0-5V,0-10V,0-20mA,4-20mA) and 2/4-channel Pt resistance thermometer of PT100, PT500, PT1000 or other PT Resistance Thermometers and transmit in ASCII data format to any RTU, SCADA, data monitoring, data loggers, PLC's, process controllers and instrumentation that supports Modbus RTU Protocol over RS485 serial port. Powered up by 9~36VDC.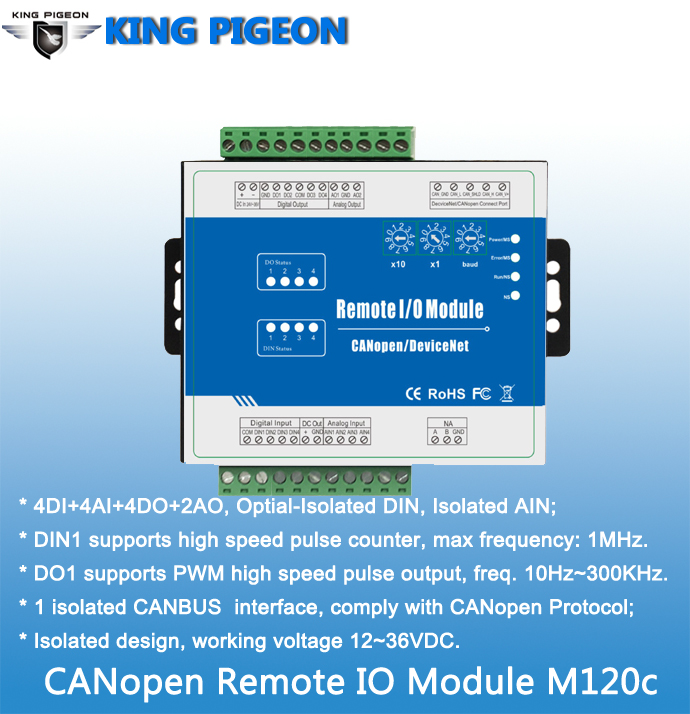 Name:CANopen Remote IO Module (4DI+4DO+4AI+2AO)
Model:M120c
The M120c CANopen Remote I/O Module is an industrial class, isolated designed, high reliability, high stability and high precision data acquisition module, embedded 32-Bit High Performance Microprocessor MCU, provides a CANBus interface. It provides multi I/O, supports standard CANopen Protocol, can be intergraded into SCADA, OPC server, HMI and other automation systems.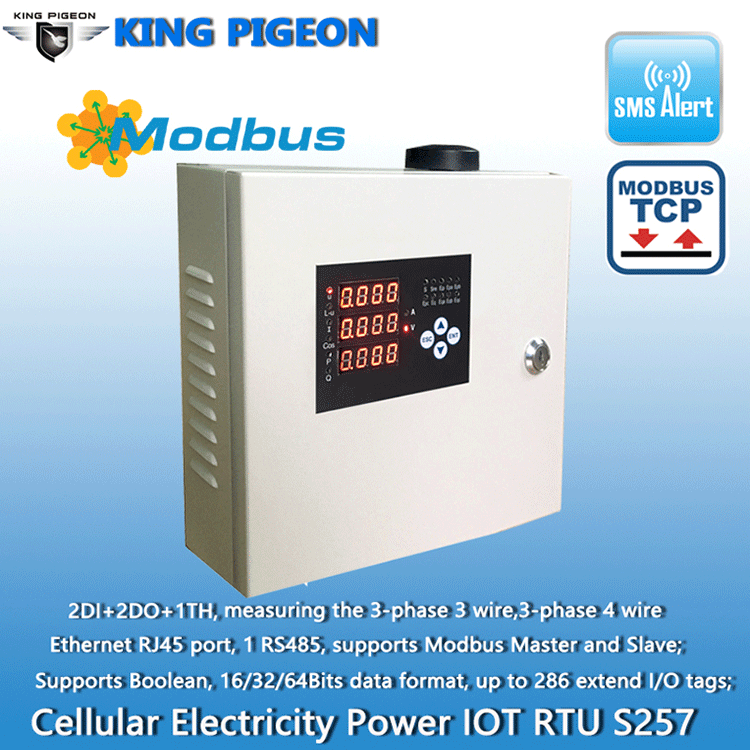 Name:Cellular Electricity Power IoT RTU
Model:S257
The Cellular Electricity Power IoT RTU is special designed for IOT Based Real Time Distribution Transformer Monitoring System(DTMS) and Electricity power monitoring system , all monitoring parameters are processed and if any abnormality occurs, e.g.: overload or loss phase or exceed the pre-set value, it will alert by SMS, Voice call, Cloud, APP, Web Server, SCADA, HMI, DSC and recorded in system
King Pigeon is a global leading Cellular IoT Data Acquisition and Monitoring System Manufacture. More than 13 years design and global market experience, professional OEM/ODM customized service support. Complete products lines covered Wireless/4G/3G/GPRS/GSM/NB-IoT and Modbus/Ethernet/DeviceNet/CANopen communication technology.Provide whole front-end
solutions, from tranducer to wireless transmission,Cloud Platform APP and remote Web monitoring.
Products Line:
Cellular 4G IoT Modbus RTU, 4G LTE Automation RTU Switch, 4G/3G Modbus Modem, 4G/3G SMS Modem, 4G IoT M2M DTU, 4G 3G Temperature and Humidity Data Logger, GSM 3G 4G Apartment Intercom,4G/3G Gate Opener, 4G/3G Power Measuring RTU, Cellular Electric Measuring RTU, 4G 3G Telemetry Systems,GSM GPRS Remote Controller, 3G Environment Alarm,SMS Monitoring Center, Modbus TCP Ethernet Remote I/O Modules, Serial to Ethernet and Wifi Module, Modbus Remote IO Modules,DAM Remote IO Modules, CANOPEN/DeviceNet Remote IO Modules, Cloud APP and Web Monitoring,etc.
Since its inception, King Pigeon has been dedicated to the improvement of security alarm solution technology and the development of new and innovative alarm solutions to address the increasingly rigorous demands placed on worldwide.

In order to provide high Quality products and services, King Pigeon employ Total Quality Management (TQM) system, ensuring all products delivered are 100% qualified. Materials and finished goods are inspected in strict compliance with Standards.
King Pigeon carry out a multi-stage quality management system: Incoming Quality Control (IQC); In-process Quality Control (IPQC); Outgoing Quality Control (OQC); After-sales support for customers.
Since 2009, during the past 9 years, the scale of this expo has expanded fast with its influence far reaching. The event attracted 706 exhibitors and more than 101510 visitors in 2018, visitors are from 20 countries - China, Australia, Canada, Egypt, France, Germany, India, Iran, Italy, Japan, Korea, Malaysia, Pakistan, Portugal, Turkey, Russia, Singapore, Saudi Arabia, the UK and the US.
2019 the 12th International Internet of Thing Exhibition is a complete showcase of IoT industry chain, including IoT perceptual layer (RFID, Barcode, Smart Card, Smart Sensor), transport network layer (NB-IoT, LoRa, 2G/3G/4G/5G, eSIM, Bluetooth, WIFI, GPS, UWB) and Intelligent applications layer (Cloud, Mobile Payment, RTLS, New Retail, Industry 4.0, Smart logistics, Smart City, Smart Home). This exhibition expected to more than 70,000 square meters in area, more than1,000 professional exhibitors , and more than 130,000 professional visitors and purchaser.
Date:July 30 - August 1, 2019
Venue:Shenzhen Convention & Exhibition Center,Hall 1, 6, 9
Register for IoTE 2019 Free Ticket: http://eng.iotexpo.com.cn/IOTUApply.aspx