Shenzhen Marktrace Co., Ltd. will join 2019 The 12th International Internet of Things Exhibition (Summer Fair) from July 30 to Aug. 1 with their latest IoT products and technology of the Company. The booth number is 1A102.
Shenzhen Marktrace Co., Ltd. (called for short is Marktrace), established in September 2004, is a State-level Hi-tech enterprise devoting to R&D, production and marketing of RFID products. Since being established, Marktrace has been adhering to the "science and technology innovation, excellent quality, sincere cooperation and people-oriented" business philosophy. Marktrace has built up a R&D team with cutting-edge technology and rich industry experience. Integrating the technical achievements of global R&D institutions, Marktrace has obtained a number of leading achievements in RFID field. Especially, UHF RFID devices has the international advanced level in multi-tag anti-collision.
Marktrace adheres to honesty and mutually beneficial business principle, and has won widely praise of customers from all over the world. Also the company obtains the considerable development from that business principle. Facing the new century, we position the mission as "High-tech Marktrace, international Marktrace."
Company research and development team was composed by Doctor, Master's and bachelor degree of engineering staff. At present, Marktrace has applied 50 and already achieved 40 National patent for invention and patent for utility model. Company awarded of honorable titles such as "State-level Hi-tech Enterprise", "Registered and Certified Software Enterprise of Shenzhen", "Independent Innovation Enterprise of Shenzhen", "Outstanding Software Product Award", etc. Marktrace successfully imported ISO9001 Quality Management System. The products developed by the Company obtained the "Radio Transmission Equipment Type Approval Certificate" issued by Ministry of Industry and Information Technology and certified by national and international related standard organizations such as CE, FCC, RoHS and 3C.
2.4G Omni-directional RFID reader
Product overview
MR3102E Omni-directional reader suit for "non-directional identify" .MR3102E applying in far distance, quick identification, meeting the special demand of identification, can identify, track and orientate more than 100 active tags simultaneity.
Product parameters
Items Parameter
Physical property
matrerial ABS
dimension 92*Φ110mm
weight 200g
way to install wall-mounted, ceiling fixed
2.4G RF feature
Identify type Omni-directional, 360 degree covered
Signal modulation mode GFSK
Traffic rate 1Mbit/s
Working frequency 2440MHz
MAX receive sensitivity -90dbm
Antenna Gain 2dbi,dual polarization
Communication interface
RS232 (TCP to RS232 converter needed) Baud rate:115200bps;data bits:8;stop bit:1;check bit:N
RJ45 10/100self-adaption
Power supply features
Working current 350mA
Working voltage 9V DC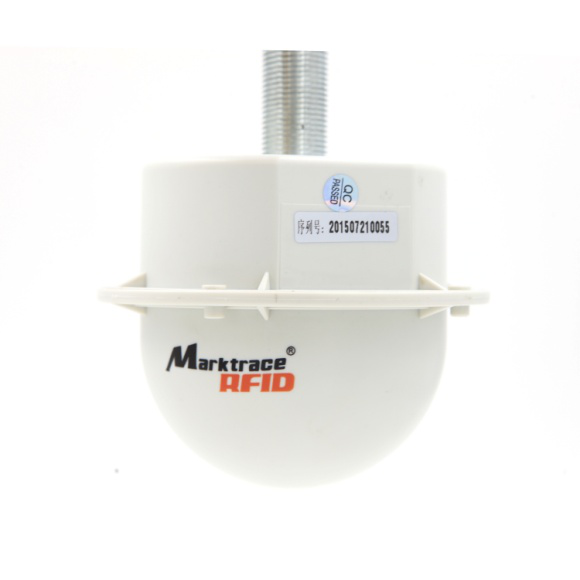 UHF Bluetooth Handheld RFID Reader
Product overview
MR6052B is a portable handheld RFID reader, operation is simple, it Support Bluetooth to transmit data. The device can be applied in parking lots, Animal Husbandry, and Logistic.
Characteristic:
1. Support ISO18000-6C (EPC-GEN2) protocol.
2. High efficient reading range. Frequency can be set up. Can be used in domestic and overseas.
Product parameters
Model MR6052B
Working Frequency ISM 902~928MHz or ISM 865~868MHz
Protocol ISO18000-6C, EPC Gen2
RF Power MAX 30dBm, software adjustable
Identify Distance Up to 2 meters (maximum)
Indication One buzzer inside
Data Interface Bluetooth 2.0,USB 2.0
Bluetooth Communication Distance 15 meters
Power Supply 3.7V 1000mAh lithium battery
Processor ARM 32-bit CortexTM-M3
Memory 30KB (Store 2500pcs 96bits EPC code)
Standby Time 9 hours
Weight 85.2g
Size 130mm*65mm*14.22mm
Temperature -5~40℃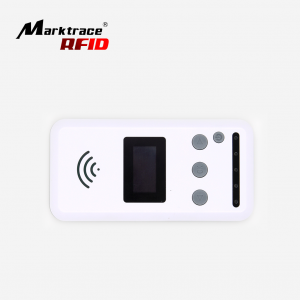 RFID 2.4G Active Assets Management Tag MR3848
Product overview
Ultra-low-power, average working current <10uA. Photosensitive tamper integration. 2.4G identify range can reach 80 meters, reading range adjustable via software.
Product parameters
Model No MR3848
Type 2.4G Card Type (Beacon type, MAX RF power)
Inductive mode Initiative transmit, RF Power-0dBm transmit every second
Material ABS, heat resistant ,Black Color
Dimension 42*18.2*7.3mm (without 3M) 3M layer thickness is 1.55mm
Battery Battery life 3 years (signal time interval is 3s)
IP Grade IP54
Microwave Link Characteristic: Electrical Characteristic:
Signal Modulation Mode: GFSK
Quiescent Current: <3uACommunication Speed: 1Mbit/s
Peak Current: <15mA
Operating Frequency: 2.44GHz
Average Current :<10uA
Output power: 0dbm
Battery mode: CR1632
Battery Capacity:120mA×2
Operating Temp: -20℃~+45℃
Storage Temp: -30℃~65℃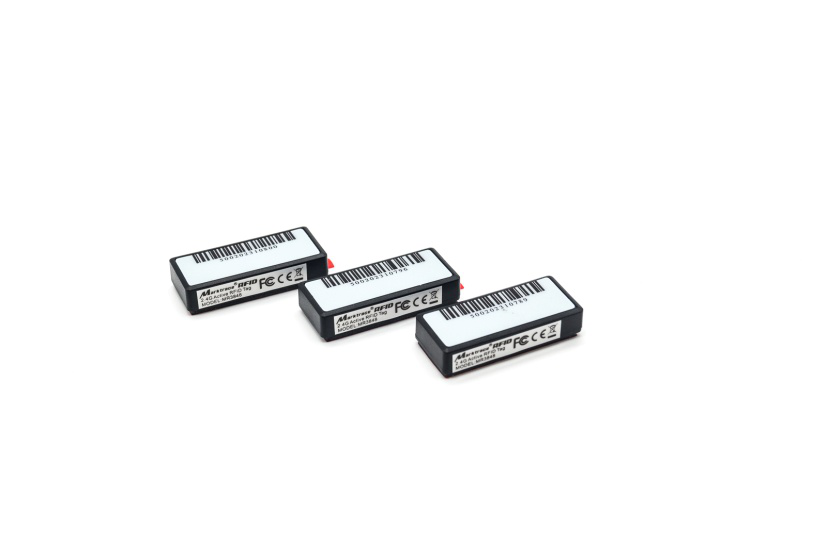 Since 2009, during the past 9 years, the scale of this expo has expanded fast with its influence far reaching. The event attracted 706 exhibitors and more than 101510 visitors in 2018, visitors are from 20 countries - China, Australia, Canada, Egypt, France, Germany, India, Iran, Italy, Japan, Korea, Malaysia, Pakistan, Portugal, Turkey, Russia, Singapore, Saudi Arabia, the UK and the US.
2019 (12th) International Internet of Thing Exhibition is a complete showcase of IoT industry chain, including IoT perceptual layer (RFID, Barcode, Smart Card, Smart Sensor), transport network layer (NB-IoT, LoRa, 2G/3G/4G/5G, eSIM, Bluetooth, WIFI, GPS, UWB) and Intelligent applications layer (Cloud, Mobile Payment, RTLS, New Retail, Industry 4.0, Smart logistics, Smart City, Smart Home). This exhibition expected to more than 70,000 square meters in area, more than1,000 professional exhibitors , and more than 130,000 professional visitors and purchaser.
Date:July 30 - August 1, 2019
Venue:Shenzhen Convention & Exhibition Center,Hall 1, 6, 7, 8, 9
Register for IoTE 2018 Free Ticket: http://eng.iotexpo.com.cn/IOTUApply.aspx