AstroNova will join 2019 The 12th International Internet of Things Exhibition (Summer Fair) from July 30 to August 1 with their biometric authentication device and technology of the Company. The booth number is 1A378.
Product recommended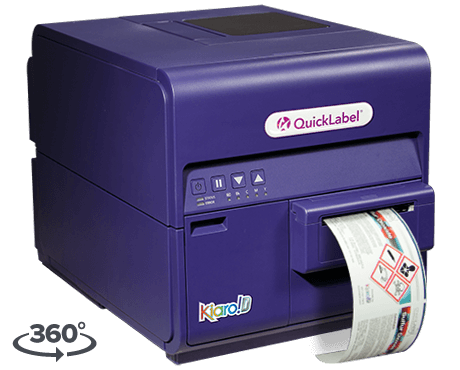 The Kiaro! D prints durable labels that can withstand dirt, moisture or water submersion, abrasion and exposure to UV rays or sunlight as well as many chemicals – all while maintaining clarity and color fastness.
A close family member to the industry best Kiaro!, the Kiaro-D is designed for printing durable labels with cutting-edge pigment ink formulation that can withstand water, dirt, sunlight exposure, and chemicals. Labels printed by the Kiaro! D on QuickLabel's qualified label stocks comply with GHS hazard warning labeling regulations and possess BS5609 certification, one of the most stringent physical label standards in the world.
Perfect for: bottle, carton, case, jug, and pack labels that require printed product pictures, logos, GHS symbols, color codes, barcodes and other variable data elements.
Astronova's QuickLabel® division is the leading manufacturer of production-capacity, full-color digital label printers, barcode printers, media and labeling software that allow businesses to print their own labels on-demand.
QuickLabel® introduced the first tabletop digital color label printer and continues to innovate labeling solutions specifically for manufacturers and processors who want to print product labels in-house.
AstroNova Serve Those Who Need Product Labels:
AstroNova specialize in designing label printers for companies that need to make their own product labels. While other labeling companies serve the label industry, AstroNova understand the needs of businesses that package their own products or provide contract packaging services for others.
AstroNova design and support software, printers and labels for processors and manufacturers in many industries including: food, cosmetics, chemical processing, dietary supplement, pharmaceutical and pharmaceutical industries, among others.
QuickLabel Mission Statement:
QuickLabel mission is the get you "The Labels You Want When You Need Them®," and QuickLabel consider that a promise. QuickLabel fulfill that promise by maintaining a rigorous Total Quality Management system and adhering to ISO9001 procedures, directly-employing technicians and salespeople and training them at factory.
History:
In 1994, AstroNova® introduced the world's first digital color label printer intended for use by manufacturers, processors and retailers who toned to print their own full-color labels for foods, beverages, chemicals, cosmetics, dietary supplements, medical device and other product labels.
QuickLabel® led the way with the development of the emerging digital printing technology and graphics software.
Since 2009, during the past 9 years, the scale of this expo has expanded fast with its influence far reaching. The event attracted 706 exhibitors and more than 101510 visitors in 2018, visitors are from 20 countries - China, Australia, Canada, Egypt, France, Germany, India, Iran, Italy, Japan, Korea, Malaysia, Pakistan, Portugal, Turkey, Russia, Singapore, Saudi Arabia, the UK and the US.
2019 (12th) International Internet of Thing Exhibition is a complete showcase of IoT industry chain, including IoT perceptual layer (RFID, Barcode, Smart Card, Smart Sensor), transport network layer (NB-IoT, LoRa, 2G/3G/4G/5G, eSIM, Bluetooth, WIFI, GPS, UWB) and Intelligent applications layer (Cloud, Mobile Payment, RTLS, New Retail, Industry 4.0, Smart logistics, Smart City, Smart Home). This exhibition expected to more than 70,000 square meters in area, more than1,000 professional exhibitors , and more than 130,000 professional visitors and purchaser.
Date:July 30 - August 1, 2019
Venue:Shenzhen Convention & Exhibition Center,Hall 1, 7, 8, 9
Register for IoTE 2018 Free Ticket: http://eng.iotexpo.com.cn/IOTUApply.aspx