Fujitsu is the leading Japanese information and communication technology (ICT) company offering a full range of technology products, solutions and services. Approximately 155,000 Fujitsu people support customers in more than 100 countries. As part of the Fujitsu Group, Fujitsu Frontech Limited will join 2019 The 12th International Internet of Things Exhibition (Summer Fair) from July 30 to Aug. 1 with their biometric authentication device and technology of the Company. The booth number is 7B50.
Based on our concept of "providing products and services that connect people to ICT with Leading-edge technology," the FUJITSU FRONTECH Group is forging ahead with total business, from products through to solution services, with regard to the development, manufacture, sales and servicing of front-technology products.
Making the best possible use of the knowhow the company has cultivated through its manufacturing prowess and ability to develop products from the viewpoint of clerical work in the fields of finance, retail, and industrial/public sector, etc., for the purpose of producing user-friendly value-added products, the company continues to contribute to customer business growth in ever-changing markets. The company also provides support for all aspects of our customers' business affairs through such services as operation monitoring and help desks, etc., to support LCM (Life Cycle Management) with ICT.
In addition to Europe, North America and China, the company also provides products that take the functions, performance levels and environmental aspects required locally to other emerging nations of Asia, and India and Brazil, etc., and, in this way, the company is marching steadfastly forward with its global business.
The following are the four main business segments of FUJITSU FRONTECH and their primary products and services.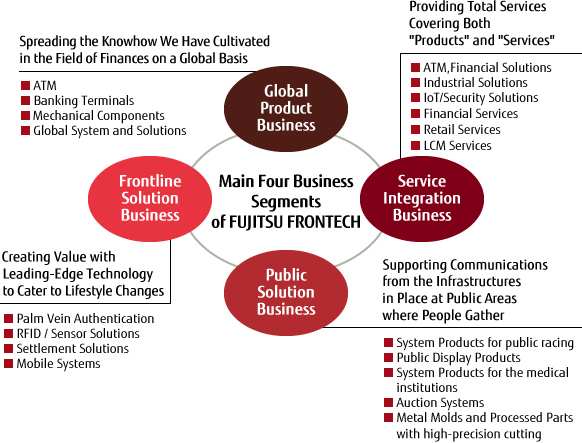 PalmSecure is a biometric authentication device that provides the highest level of security using palm vein authentication technology.
This technology is now able to be used in a wide range of situations thanks to reductions in size, reductions in cost, and simplification of development.
Contactless
Because of its contactless feature, it is very hygienic and stress free for even public use.
Easy to Use
Just hold your palm over the device, it captures your vein pattern instantly.
Advanced Authentication Accuracy
Our palm vein authentication realize advanced authentication accuracy because the palm vein pattern has many and large size of blood vessels. False Rejection Rate: 1.00% (No retry), False Acceptance Rate: 0.00001%
High Security and Applicability Rate
Difficult to forgery the palm vein data because it is inside the body. Almost everyone can use it.
Hardware options
The following two types of PalmSecure™ sensor are available.
Standard sensor : Sensor is set in a holder.
Mouse type sensor : Sensor is built in an optical mouse.It is possible to replace your mouse with it.

Fujitsu Frontech Limited has always insisted on innovation, leading the industry by pioneering technology, Committing to provide high-quality, diversified and customized equipment solutions to the market. the company is willing and has the confident to provide newest technical services to the customers continuously. Welcome to experience the world's leading Fujitsu products at 7B50 booth.
Since 2009, during the past 9 years, the scale of this expo has expanded fast with its influence far reaching. The event attracted 706 exhibitors and more than 101510 visitors in 2018, visitors are from 20 countries - China, Australia, Canada, Egypt, France, Germany, India, Iran, Italy, Japan, Korea, Malaysia, Pakistan, Portugal, Turkey, Russia, Singapore, Saudi Arabia, the UK and the US.
2019 the 12th International Internet of Thing Exhibition is a complete showcase of IoT industry chain, including IoT perceptual layer (RFID, Barcode, Smart Card, Smart Sensor), transport network layer (NB-IoT, LoRa, 2G/3G/4G/5G, eSIM, Bluetooth, WIFI, GPS, UWB) and Intelligent applications layer (Cloud, Mobile Payment, RTLS, New Retail, Industry 4.0, Smart logistics, Smart City, Smart Home). This exhibition expected to more than 70,000 square meters in area, more than1,000 professional exhibitors , and more than 130,000 professional visitors and purchaser.
Date:July 30 - August 1, 2019
Venue:Shenzhen Convention & Exhibition Center,Hall 1, 7, 8, 9
Register for IoTE 2018 Free Ticket: http://eng.iotexpo.com.cn/IOTUApply.aspx