MeiG Smart Technology Co., Ltd will join 2019 The 12th International Internet of Things Exhibition (Summer Fair) from July 30 to Aug. 1 with their latest IoT products and technology of the Company. The booth number is 1A12.
MeiG Smart Technology Co., Ltd was established in 2007, headquartered in Bao'an District of Shenzhen City, and in Shanghai, Xi'an, Wuhan, respectively, set up R & D center. The company's overall staff of about 3,500 people, of which nearly 600 R & D personnel, access to the national high-tech enterprise certification and certification of high-tech enterprises in Shenzhen City. The company in June 2017 in the Shenzhen Stock Exchange small plate successfully listed.
Base on new generation communication technology and long distance wireless data communication technology, MeiG Smart Technology focus on R&D, production and sales of IoT smart terminals, wireless communication modules ( M2M) and smart terminals. MeiG Smart Technology also develop precise injection tooling and produce precise structural components. The products, including IoT smart terminals, LTE wireless modules and wireless data solutions, are widely used in varied fields, such as security monitoring, mobile finance POS terminals, vehicle smart driving mirror, DTU, electric car, charging post, police mobile terminal and logistic handy terminals. MeiG Smart Technology also are key vendor of many domestic top consumer brands by providing precise structural components.
From the establishment, MeiG Smart Technology practice Integrity, responsibility, innovation and share as corporation value, always focus on customer and product quality, and step forward on the way to providing excellent IoT products and wireless data solutions to the customer all over the world.
MeiG Products
Product No:SLM720
Platform:Qualcomm
Encapsulation Features:75-pin NGFF M.2(KEYB)
Dimension(mm):42.0X30.0X2.3
SLM720 LX:LTE-FDD:B1/B3/B5/B7/B8/B20
WCDMA: B1/B2/B5/B8
LTE-TDD: B38/B39/B40/B41
SLM720 C5A:LTE-FDD:B1/B3/B8
LTE-TDD: B38/B39/B40/B41
WCDMA: B1/B8 EVDO&CDMA:BC0
Weight:<5gM720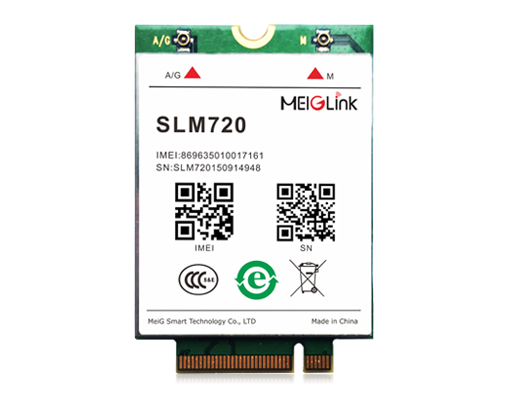 Product No: SLM151
Platform:Qualcomm
Bands:LTE:B3/B5/B8 GSM:850/900/1800/1900MHz
Weight:<4g
Encapsulation Features:Multi-modes NB-IoT/LTE Cat M/GPRS
Dimension(mm):24.0X26.0X2.6
Working Temperature:-40°C~+85°C
Data transmission(Mbps):LTE CATM:Max.375Kbps(DL),Max.375Kbps(UL)
NB-IoT: Max.32Kbps(DL),Max.70Kbps(UL)
GPRS: Max.85.6Kbps(DL),Max.85.6Kbps(UL)
EDGE: Max.236.8Kbps(DL),Max.236.8Kbps(UL)
Application Fields:AMR, Smart Parking, Smart Agriculture, Smart
Community,Wearables, Environment Monitoring etc.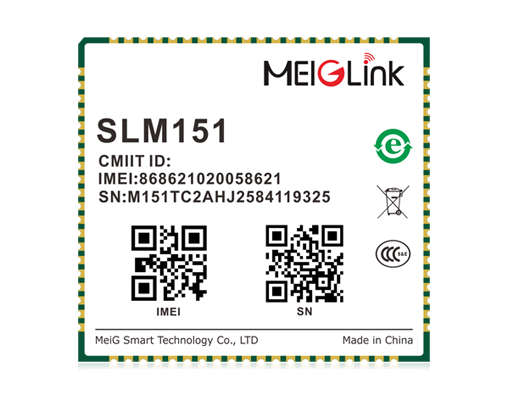 SLM755L
MeiG Smart
Product Model:SLM755L
Platform:Qualcomm Quad-core(32bits)1.1G
OS:Android 6.0
Memory:8+1(GB)
SLM755L:LTE-FDD:B1/B3/B8 LTE-TDD:B38/B39/B40/B41
TDS:B34/B39 WCDMA: B1/B5/B8
WCDMA: B2/B4/B5 GSM:850/1900
Encapsulation Features:LCC 146pin+LGA 64pin
Dimension(mm):40.5X40.5X3.0
Application fields :It is applicable in low-end smart POS, security monitoring, on-board equipment, low-end smart robot, smart home, intelligent hardware, intelligent industrial handhelds, low-end smart intercom devices, lower-level police enforcement instrument , smart wearables, vending machine, logistics cabinet, smart access control etc.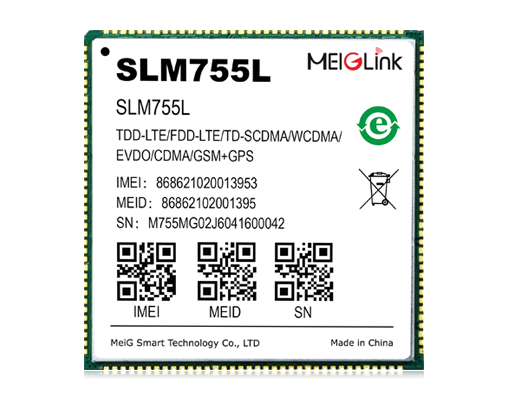 For more MeiG intelligent IoT module products and solutions, please join IOTE 2018 International Internet of Things Expo, we expect your participation!
Since 2009, during the past 9 years, the scale of this expo has expanded fast with its influence far reaching. The event attracted 706 exhibitors and more than 101510 visitors in 2018, visitors are from 20 countries - China, Australia, Canada, Egypt, France, Germany, India, Iran, Italy, Japan, Korea, Malaysia, Pakistan, Portugal, Turkey, Russia, Singapore, Saudi Arabia, the UK and the US.
2019 (12th) International Internet of Thing Exhibition is a complete showcase of IoT industry chain, including IoT perceptual layer (RFID, Barcode, Smart Card, Smart Sensor), transport network layer (NB-IoT, LoRa, 2G/3G/4G/5G, eSIM, Bluetooth, WIFI, GPS, UWB) and Intelligent applications layer (Cloud, Mobile Payment, RTLS, New Retail, Industry 4.0, Smart logistics, Smart City, Smart Home). This exhibition expected to more than 70,000 square meters in area, more than1,000 professional exhibitors , and more than 130,000 professional visitors and purchaser.
Date:July 30 - August 1, 2019
Venue:Shenzhen Convention & Exhibition Center,Hall 1, 6, 7, 8, 9
Register for IoTE 2018 Free Ticket: http://eng.iotexpo.com.cn/IOTUApply.aspx