PAX Technology Limited will join 2019 The 12th International Internet of Things Exhibition (Summer Fair) from July 30 to August 1 with their IoT device and technology of the Company. The booth number is 1A229.
PAX Technology Limited is a leading international supplier of secure electronic payment terminal hardware and transactional software services.

PAX has comprehensive product lines, strong R&D capabilities, global presence and is ranked as one of the top 3 global payment terminal solution suppliers. The company is listed on the Hong Kong stock exchange as PAX Global Technology Ltd. (00327.HK).
Products
A910 Mobile Payment Terminal
PCI PTS 5.x Certified | Fast Thermal Printer | 5-inch Capacitive Touchscreen | 5 Megapixels Camera | High Capacity Battery | PayDroid Powered by Android PAXSTORE Compatible
The A910 is a new generation PCI PTS 5.x and NFC contactless certified smart mobile terminal with a state of the art processor and PayDroid powered by Android 6.0. With inbuilt 4G, WiFi and Bluetooth connectivity and a high capacity battery, the A910 keeps you always connected, ensuring peak performance during business hours.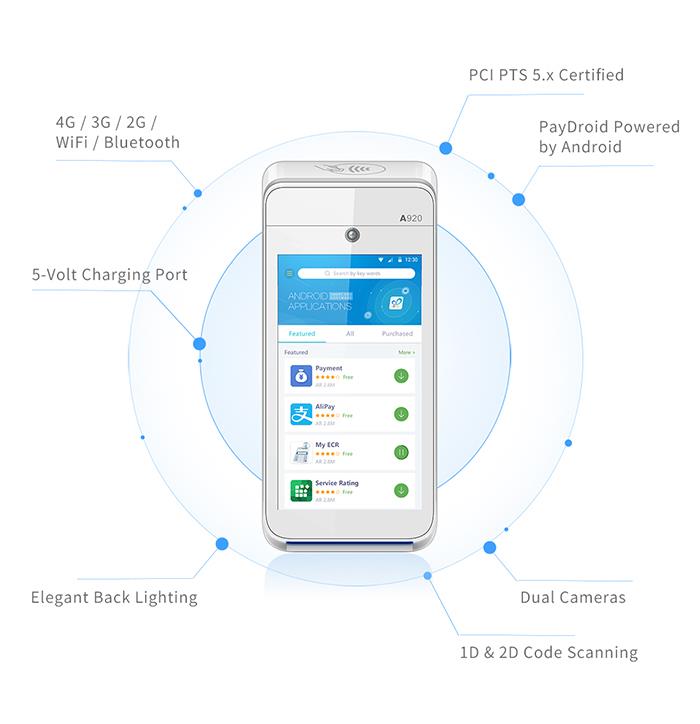 A920 Mobile Payment Terminal
PCI PTS 5.x SRED | PayDroid Powered by Android | 5250mAh Rechargeable Li-ion Battery | Multiple Communications | 1D & 2D Code Scanning | Dual Cameras | Omni-Channel Payment
The PAX A920 is the world's most elegantly designed and compact secure electronic payment terminal powered by the Android operating system.The A920 comes with a large high definition tablet colour display and a super fast thermal printer that is neatly hidden below so as to maximize screen usage for customer facing transactions. A wide range of advanced connectivity options are supported, as well as inbuilt NFC contactless, electronic signature capture and massive amounts of memory to enable exceptionally fast processing of applications.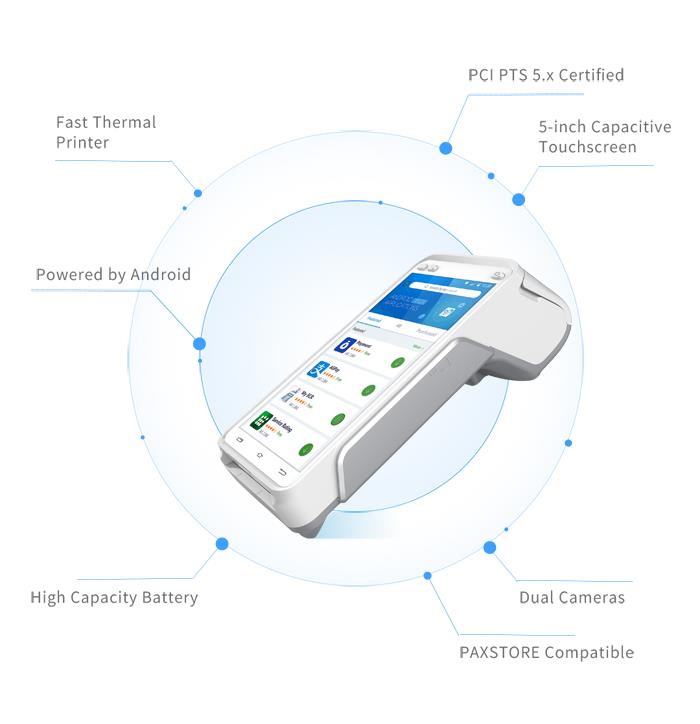 E800 Integrated Smart POS
New Generation Electronic Cash Register Solution All-in-One | Housing Unit: Tablet, Printer, PED, Ports |Modular Design Seamless User Experience | PayDroid Powered by Android
The E800 is ideal for fashion & hospitality merchants requiring a more cost efficient and space saving solution. Data input by staff is easier on this large tablet color touchscreen, while the opposite is a bright customer facing display and integrated payment acceptance module. An inbuilt camera and router enable barcode & QR code scanning as well as a WiFi hotspot service, while the base unit houses a printer with automatic receipt cutter and multiple ports for connecting peripheral hardware.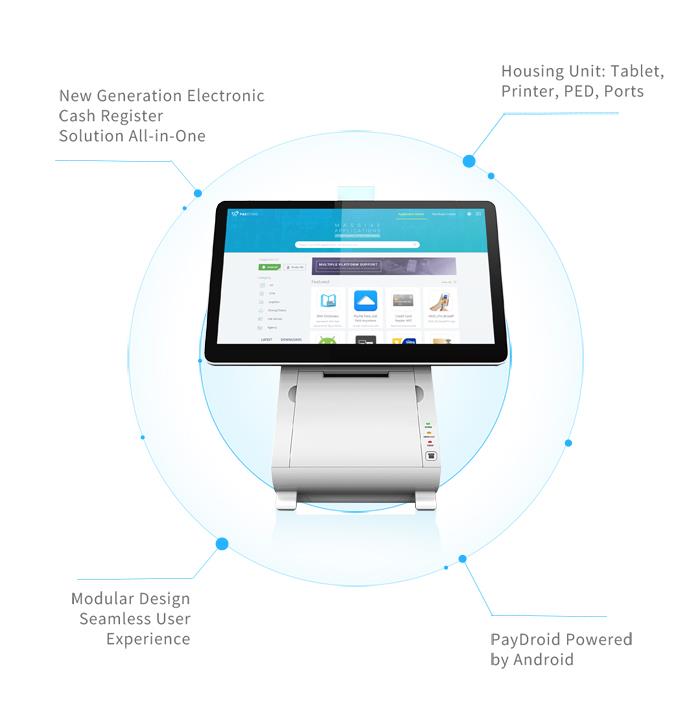 Since 2009, during the past 9 years, the scale of this expo has expanded fast with its influence far reaching. The event attracted 706 exhibitors and more than 101510 visitors in 2018, visitors are from 20 countries - China, Australia, Canada, Egypt, France, Germany, India, Iran, Italy, Japan, Korea, Malaysia, Pakistan, Portugal, Turkey, Russia, Singapore, Saudi Arabia, the UK and the US.
2019 the 12th International Internet of Thing Exhibition is a complete showcase of IoT industry chain, including IoT perceptual layer (RFID, Barcode, Smart Card, Smart Sensor), transport network layer (NB-IoT, LoRa, 2G/3G/4G/5G, eSIM, Bluetooth, WIFI, GPS, UWB) and Intelligent applications layer (Cloud, Mobile Payment, RTLS, New Retail, Industry 4.0, Smart logistics, Smart City, Smart Home). This exhibition expected to more than 70,000 square meters in area, more than1,000 professional exhibitors , and more than 130,000 professional visitors and purchaser.
Date:July 30 - August 1, 2019
Venue:Shenzhen Convention & Exhibition Center, Hall 1,6, 9
Register for IoTE 2019 Free Ticket: http://eng.iotexpo.com.cn/IOTUApply.aspx