Nanjing WoXu Wireless Co., Ltd. will join 2019 The 12th International Internet of Things Exhibition (Summer Fair) from July 30 to August 1 with their biometric authentication device and technology of the Company. The booth number is 1A104.
Nanjing Wo Xu Wireless Co., Ltd. was established in 2012, Woxu is the first domestic-based IR-UWB product development of high-tech enterprises, also the world's top indoor precision positioning chip manufacturers designated the only domestic partners.
Wo Xu in 2013 focused on wireless high-precision positioning system development and sales, the team has a number of software copyright and invention of new patents, positioning accuracy, radio frequency technology, product integration and application development have their own advantages.
Product
Wo Xu Products includes the following:
1, UWB Anchor
2, UWB Tag
3, UWB Kits
4, Smart watch
5, Pet trainer
Woxu provides wireless precision positioning of the overall solution, mainly using the UWB, Wi-Fi, BLE, GPS and other technologies to provide the positioning of people and objects to meet a variety of indoor and outdoor positioning needs, positioning accuracy of meters to centimeters level, all-round to meet the security and intelligence of the two core areas.
Product Application
Wo XU positioning system for a wide range of industries, precise positioning conducive to improving control efficiency and personnel safety management.
√ Wisdom Factory
√ Industry 4.0
√ Smart Power Plant
√ Smart Chemical
√ Forklift Crash Prevention
√ Robot / UAV
√ Underground Space
√ Smart Sports
√ Smart Retail
√ Warehouse Pledge
√ Special Training
Certificate
The company's products to complete SRRC, FCC certification, Explosion-proof certification and will soon pass the German Rhine TUV functional safety certification. And we have 6 software copyrights, 3 product appearance patents, 2 utility model patents, 1 invention patent.
Service
In the pre-sale, professional project leader communicates with you to understand the specific needs.
In the sales, application engineers provide technical support.
In the aftermarket, time to listen to feedback and product with one- year warranty.
Ultra wideband (UWB) wireless AD hoc networks
A wireless ad hoc network is a type of temporary network which consists of devices communicating with each other and can send data directly.
In the UWB -based real -time location system ,the location anchors with the WIFI antenna can communicate with each other through Wi- Fi r-ather than wired connections.Take the anchor UA-300W for example,this UWB anchor support 802.11AN and has the following features:
(1) High power,long working range
The output power reaches 100mW at the highest rate and 200mW at the lowest rate. It support long range location ,working range about 100 m.
(2) High rate
With 802.11 AN, the air interface rate reaches 150Mbps at 20MHz bandwidth, and the actual rate can reach 60Mbps,which can fully satisfy th-e transmission of location data.
(3)Multiple modes
It support three modes:AP/Station/Repeater, greatly simplifies system installation.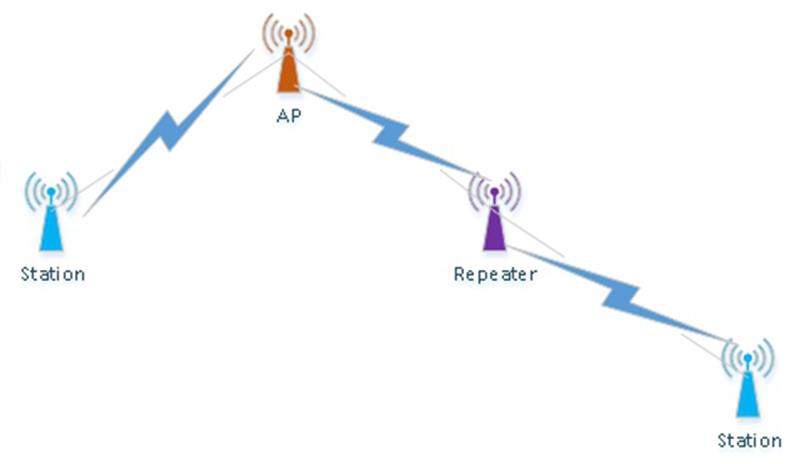 Advantage:
There are several advantages as anchors support the Wi-Fi network.
(1)Reduce wiring work for the system
It can effectively reduce system wiring because of the Wi-Fi transmission.For example, there are 20 anchors on a floor, we only need set the working modes of three anchors to "AP",and they will be connected to the switch.Other anchors just need charging and their working mode should be set as "station", which can connect the network through WiFi. In this way,the work of network cabling can be greatly reduced.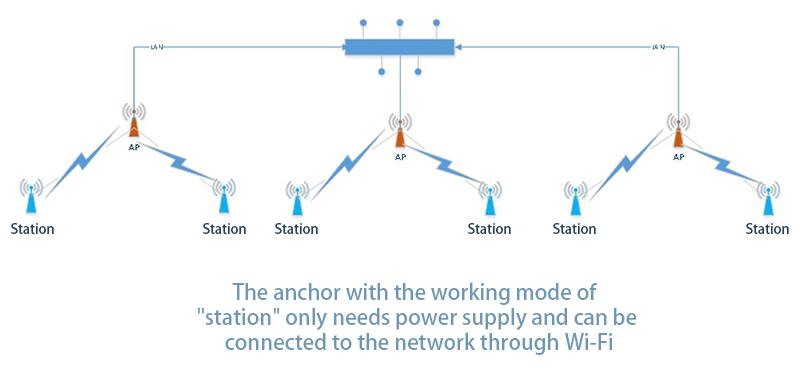 (2)Meet a variety of application scenariosIn addition to the typical star network, the system can also adopt cascaded method.if there are five anchors ,the first anchor is "AP",the last anchor is "station",the rest anchors are "repeater",only the first anchor is connected to the switch by Ethernet cable,other anchors are connected to the network through WiFi

(3)reduce cost
Since no additional wiring is required, the flexibility of the system can be greatly increased. We also reduce the workload and save system costs.
Since 2009, during the past 9 years, the scale of this expo has expanded fast with its influence far reaching. The event attracted 706 exhibitors and more than 101510 visitors in 2018, visitors are from 20 countries - China, Australia, Canada, Egypt, France, Germany, India, Iran, Italy, Japan, Korea, Malaysia, Pakistan, Portugal, Turkey, Russia, Singapore, Saudi Arabia, the UK and the US.
2019 the 12th International Internet of Thing Exhibition is a complete showcase of IoT industry chain, including IoT perceptual layer (RFID, Barcode, Smart Card, Smart Sensor), transport network layer (NB-IoT, LoRa, 2G/3G/4G/5G, eSIM, Bluetooth, WIFI, GPS, UWB) and Intelligent applications layer (Cloud, Mobile Payment, RTLS, New Retail, Industry 4.0, Smart logistics, Smart City, Smart Home). This exhibition expected to more than 70,000 square meters in area, more than1,000 professional exhibitors , and more than 130,000 professional visitors and purchaser.
Date:July 30 - August 1, 2019
Venue:Shenzhen Convention & Exhibition Center,Hall 1, 7, 8, 9
Register for IoTE 2019 Free Ticket: http://eng.iotexpo.com.cn/IOTUApply.aspx