ostek, which is a well-known brand of barcode printer in automatic identify industry in China, announced recently it will attend 2016 Shenzhen International Internet of Things and Smart China Exhibition (IOTE) with its dealers of professional bills and label printer and intelligent printing terminal system.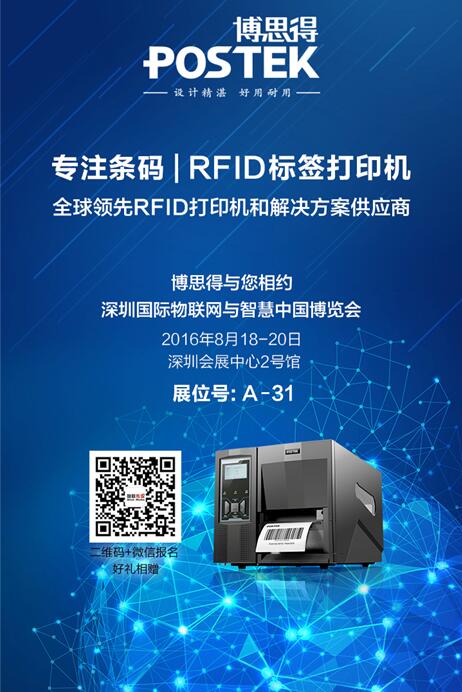 As China's leading barcode printing solution provider, Postek will present the well-designed and advanced technological label printer, as well as the embedded self-service printing solution that is implemented in self-service terminal equipment of intelligent retail and medical services, enables the advanced resource sharing between equipment manufacturers and system integrators.
Postek printer covers a wide range of the max printing width from 2, 3, 4 to 8 inches, which could meet requirement from logistics, retailers, health and medical services, electric power and the telecommunication. Rely on the ingeniously designed structure and high quality components, Postek printer has the good compatibility with the labels and ribbons, and shows the reliable performance and excellent printing effects, significantly reduces the usage and maintenance costs, while brings the high cost-effective printing to all users.
At IoTE 2016, Postek will exhibit POSTEK iQ100 label printer that can provide one-stop printing service for users. It includes the various built-in label templates, and the one-key continuous printing function leads to no missing and skipping labels, which gets the favor of its users. Meanwhile, it will also present the world's first smart portable terminal system for the wide format label printing. As the hardcore of the whole system, Postek printer brings the user more efficient and convenient printing experience with wireless data transferring, on-site printing and sticking.
2016 Shenzhen International Internet of Things and Smart China Exhibition (IOTE) will be held on Aug 18-20,2016, at Shenzhen Convention & Exhibition Center, Hall 2,3,4 (about 30,000 sqm). The event will feature the latest technologies and products of RFID , smart card, sensing network, core control chip and embedded chip, telecommunication and their applications in various industries, such as manufacturing, retail, apparel, health care, pharmaceuticals, defense and aerospace.
Company representatives interested in attending 2016 IoT and Smart China can register online http://eng.iotexpo.com.cn/IOTCApply.aspx.
Aboout Ulink Media
Ulinkmedia is China's leading source of Internet of Things news and insights, dedicated to help companies to understand what happen in China's IOT industry
Ulink Media
Room 1205, Shanghai Auto Building, Nan hai Road 4050, High-tech Park, Nanshan District, Shenzhen, Guangdong, China
Tel: (86) 755-86227155
Fax: (86) 755-86227110
Email:zhs@ulinkmedia.cn
http://eng.iotexpo.com.cn
Register as a VIP visitor for free and enjoy the following special benefits::
1. The exhibition was founded in 2009 and is the first domestic Internet of Things virtual reality, car networking, intelligent robot, wearable, smart medical, smart home professional fair. The largest and most comprehensive internet of things exhibition in Asia. 2018(10th) Shenzhen International Internet of Things Exhibition will be held on July 31-Aug 2 at Shenzhen Convention and Exhibition Center.
2. E-mail to the show the latest exhibitors list, featured exhibits and solutions. It is estimated that there are nearly 700 exhibitors from china and other countries, more than 12,000 professional audience and buyers.
3. Receive the VIP confirmation letter and text message before the exhibition, you can avoid registration at the scene.
4. If you need to purchase, you can arrange appointments for high-level exhibitors of designated categories,get skype to contact:13266868052.
5. Free exhibition magazine. (Limited to 2000pcs)
6. All VIP visitors will be given free water on site.
7. In the same period, the Internet of Things, virtual reality, car networking, intelligent robots, wearable, smart medical, smart home professional conferences will be staged at the same time, and you can also apply for free tickets for the conference.
8. The follow-up information of the exhibition will be given priority.
Complete VIP registration within one minute:
http://eng.iotexpo.com.cn/IOTUApply.aspx#txtCName