Golden Spring Internet of Things Inc. will join 2019 The 12th International Internet of Things Exhibition (Summer Fair) from July 30 to August 1 with their biometric authentication device and technology of the Company. The booth number is 1A189.
Golden Spring Internet of Things Inc.,Focused on Internet of things industry for fourteen years, we are the world's leading total solutions provider for RFID production and application. The envision of us is to make several cards with radio frequency function for everyone in the world, including identity cards, transportation cards, banking cards and citizen cards; let all objects be worth more than 20 dollars around the world have their own identifications (smart label); apply RFID to every aspect of public life by using our reader, and keep people, funds and articles safer; leave fake commodity nowhere to hide away; make public life safer, more harmonious and effective.
Successfully promoted the national identification card of China and Indonesia, the electronic passports of China and Italy, and China's banking card and other national projects; the Internet of Things anti-fake mass-production system for Maotai and Yanghe wine; and APEC personnel location, bank note box transportation management system for bank and other important projects.
The team has explored deeply in the field of internet of things for 20 years, constructing deeply the advantages of talents, technologies, patents and funds. And received an audience with state leaders like Li Keqiang, Wang Qishan, Jia Qinglin, Wei Jianxing and Wang Yang.
Came into the National Equities Exchange and Quotations stock market in 2010 , and became the first listed company in the industry of the Internet of Thing RFID high-end smart devices. The NEEQ market dealer (899002, 105 stocks in total), and the NEEQ component index (899001, 332 stocks in total) both are chosen as sample stocks. "Deloitte Technology Fast 500 Asia Pacific" from 2010 to 2015; "2013 Forbes China Up-and-comers"; "2014 The Most Leading RFID Production Equipment Enterprise in China RFID Industry".
6400 Electronic label device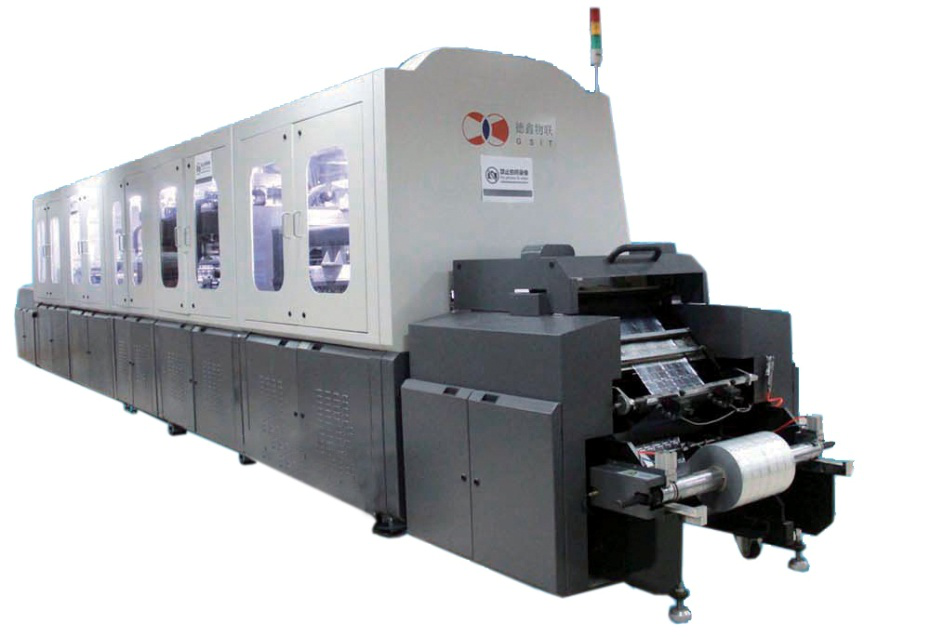 Smart Label Flip Chip Bonder
International robot and vision automation technology.
Turnkey solution covering machinery, know-how, chip, antenna.
Strong flexibility .
Complete know-how and parameters for inlay production.
Highest precision of temperature control and best quality products.
Highest performance price ratio solution.
Smart Label Flip Chip Bonder is the full automatic high speed RFID inlay production machinery, which use highest precision vision system and robot motion system. The RFID smart labels are widely using for tickets, luggage tracing, good management, logistic, military, library, manufacturing, retail, access control and identification etc. The system is modularized design with advantages of better quality, precision, flexibility, stability and faster speed.

Advantages:
Highest precision robot and vision system, the bonding precision reaches to 40um.
Patented technology of heat pressure curing.
Patented technology of glue dispensing with lower consumption and easier maintenance.
High technology of tension control for antenna feeding.
Strong flexibility in processing different types of chips and antennas.
Better performance and stability.
International quality components.
Antenna feeding with highest precision and stability.
Vision Guided Sheet Gathering Machine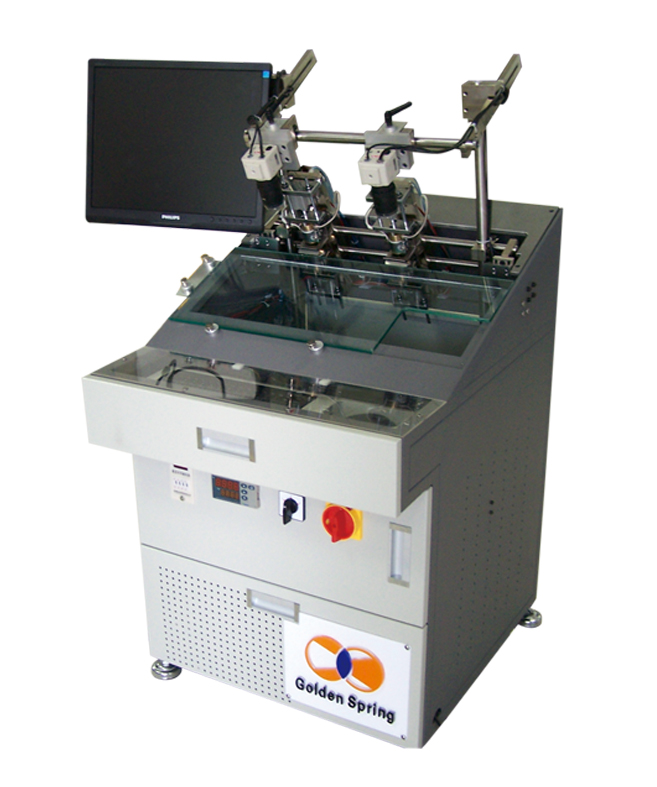 Vision Guided Sheet Gathering Machine
Smart vision system for alignment .
Alignment precision reaches to 0.05-0.15 mm.
Better stability and flexibility .
The Vision Guided Sheet Gathering Machine is a system with self-developed technology for the sheets alignment and collation to prepare for lamination. The machine can works with PVC, PET, PET-G, PC, TESLIN substrates and design for different layouts. It is in production of billions of E-ID card production and other national projects in different countries.
Advantages:
Higher precision alignment .
Easier operation and higher efficiency.
Self-Calibration .
Better stability with PC system control .
Better performance with multi tacking positions .
Dual Interface Module Embedding Machine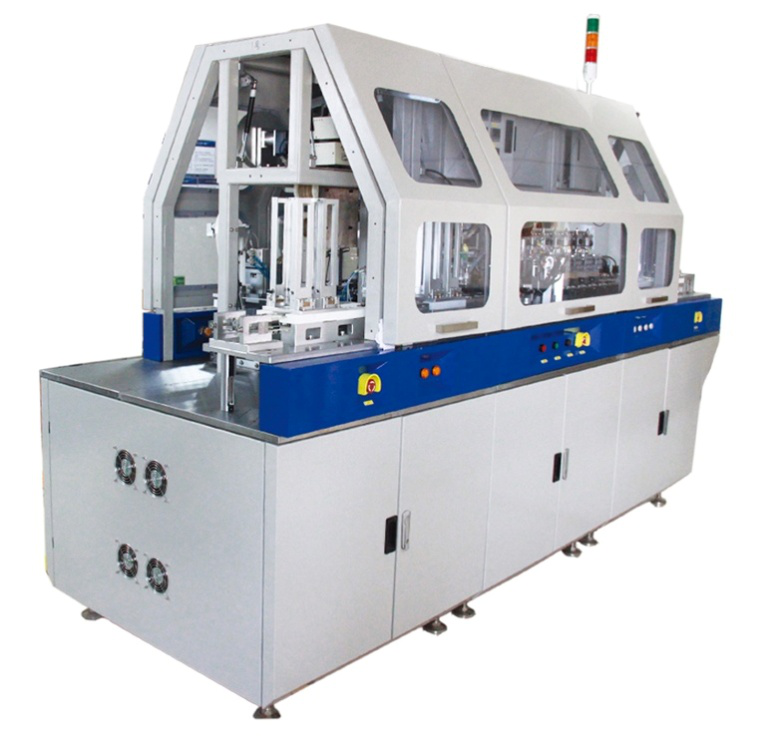 Dual Interface Module Embedding Machine
Turnkey solution of dual interface card production.
Highest reliability and performance price ratio.
Full-automation.
Online test.
Pass the test of card in boiling water for 24 hours.
Pass 10 times bending & torsion test .
Dual Interface Module Embedding Machine is an automation system with patented technology and process for module embedding of banking card, social security card, ID card. The machine covers card input, electrical test, module embedding, hot and cold press, card output and related software.
Advantages:
Higher automation and easier operation.
Patented technology and process.
Best stability.
Reliable connection with patented conductive tape.
Online test.
Best quality.
Since 2009, during the past 9 years, the scale of this expo has expanded fast with its influence far reaching. The event attracted 706 exhibitors and more than 101510 visitors in 2018, visitors are from 20 countries - China, Australia, Canada, Egypt, France, Germany, India, Iran, Italy, Japan, Korea, Malaysia, Pakistan, Portugal, Turkey, Russia, Singapore, Saudi Arabia, the UK and the US.
2019 the 12th International Internet of Thing Exhibition is a complete showcase of IoT industry chain, including IoT perceptual layer (RFID, Barcode, Smart Card, Smart Sensor), transport network layer (NB-IoT, LoRa, 2G/3G/4G/5G, eSIM, Bluetooth, WIFI, GPS, UWB) and Intelligent applications layer (Cloud, Mobile Payment, RTLS, New Retail, Industry 4.0, Smart logistics, Smart City, Smart Home). This exhibition expected to more than 70,000 square meters in area, more than1,000 professional exhibitors , and more than 130,000 professional visitors and purchaser.
Date:July 30 - August 1, 2019
Venue:Shenzhen Convention & Exhibition Center,Hall 1, 7, 8, 9
Register for IoTE 2019 Free Ticket: http://eng.iotexpo.com.cn/IOTUApply.aspx