China's leading IoT/RFID media, Ulink media, announced recently that Yukai Smart will attend 2016 Shenzhen International Internet of Things and Smart China Exhibition (IOTE). It's the fourth time for the company to be part of the world's largest and most comprehensive RFID/IoT/Smart Card exhibition, which covers 30,000sqm and attracts more than 400 exhibitors this year.
Shenzhen Yukai Smart Technology Co., Ltd is a professional industry & trade company in diversified products designing & manufacturing in China. The RFID products department is committed to provide customers with the objective of professional comprehensive RFID solutions and tag products. Their products include RFID Inlay, RFID Tag/Label, Various Special Tags(including On-Metal Tag, Laundry Tag, Hang Tag, Jewelry Tag, Smart Card/Ticket, Wristband Tag etc.), RFID Reader, RFID Antenna, RFID Hand Held Terminal etc. And we also supply OEM service to domestic and overseas companies.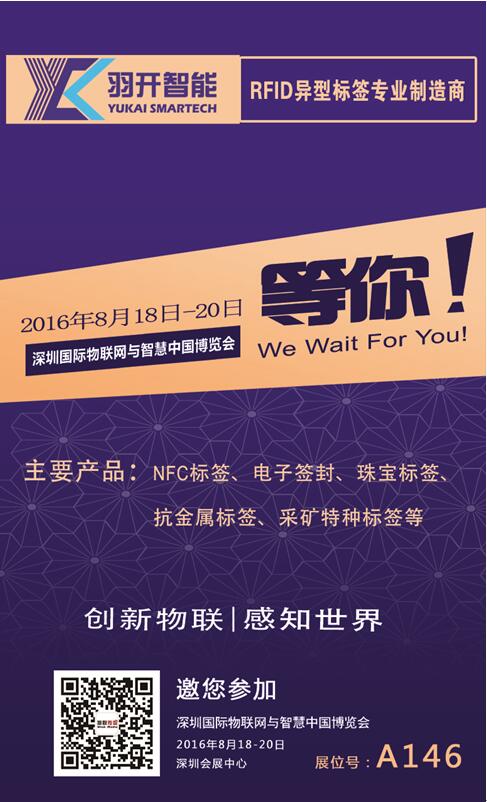 2016 Shenzhen International Internet of Things and Smart China Exhibition (IOTE) will be held on Aug 18-20,2016, at Shenzhen Convention & Exhibition Center, Hall 2,3,4 (about 30,000 sqm). The event will feature the latest technologies and products of RFID , smart card, sensing network, core control chip and embedded chip, telecommunication and their applications in various industries, such as manufacturing, retail, apparel, health care, pharmaceuticals, defense and aerospace.
Company representatives interested in attending 2016 IoT and Smart China can register online http://eng.iotexpo.com.cn/IOTCApply.aspx.
Aboout Ulink Media
Ulinkmedia is China's leading source of Internet of Things news and insights, dedicated to help companies to understand what happen in China's IOT industry
Ulink Media
Room 1205, Shanghai Auto Building, Nan hai Road 4050, High-tech Park, Nanshan District, Shenzhen, Guangdong, China
Tel: (86) 755-86227155
Fax: (86) 755-86227110
Email:zhs@ulinkmedia.cn
http://eng.iotexpo.com.cn
Register as a VIP visitor for free and enjoy the following special benefits::
1. The exhibition was founded in 2009 and is the first domestic Internet of Things virtual reality, car networking, intelligent robot, wearable, smart medical, smart home professional fair. The largest and most comprehensive internet of things exhibition in Asia. 2018(10th) Shenzhen International Internet of Things Exhibition will be held on July 31-Aug 2 at Shenzhen Convention and Exhibition Center.
2. E-mail to the show the latest exhibitors list, featured exhibits and solutions. It is estimated that there are nearly 700 exhibitors from china and other countries, more than 12,000 professional audience and buyers.
3. Receive the VIP confirmation letter and text message before the exhibition, you can avoid registration at the scene.
4. If you need to purchase, you can arrange appointments for high-level exhibitors of designated categories,get skype to contact:13266868052.
5. Free exhibition magazine. (Limited to 2000pcs)
6. All VIP visitors will be given free water on site.
7. In the same period, the Internet of Things, virtual reality, car networking, intelligent robots, wearable, smart medical, smart home professional conferences will be staged at the same time, and you can also apply for free tickets for the conference.
8. The follow-up information of the exhibition will be given priority.
Complete VIP registration within one minute:
http://eng.iotexpo.com.cn/IOTUApply.aspx#txtCName