About IOTE 2018
Date:April 25-27, 2018
Venue:Suzhou International Expo Center

Date:July 31- Aug 2, 2018
Venue:Shenzhen Convention & Exhibition Center, Hall 1, Hall 6, Hall 9
Organizer:Ulink Media
Website:www.iotexpo.com.cn

Co-organizer:Shenzhen Institute of Standard and Technology, Internet of Things Association of Guangdong Province, Internet of Things Association of Shanghai, China NB-IOT Industry Alliance, China RFID Industry Alliance. Internet of Things Association of Zhejiang Province

Supported by:China Internet of Thing Industry Alliance, China IoT Alliance, Shanghai RFID and IoT Industry and Research Alliance, China Information Industry Trade Association & Smart Card Committee, RFID Industry alliance of Guangdong-Hong Kong, RFID Technology Center of Guangdong, GS1 Hong Kong, IoT Alliance of Wuxi, IoT Alliance of Zhongguancun, IoT Alliance of Hanzhou, China Smart Sensor Association, RFID Industry Alliance of Hanzhou, Hong Kong EPC/RFID Supply Chain Innovation Center, RFID Industry Alliance of Xiamen, Hong Kong and Taiwan, Guangdong Automation Association,Taiwan Industrial Technology Research Institute,South Korea RFID association.
Industry Analysis
IoT system is well known as dividing into there layers: Perception Layer,Transmission Layer and Application Layer. Perception layer is consisted with various sensors and sensing network. It's the core layer of IoT, aims to acquire, collect and process the data from the physical world.Transmission Layer is also known as network layer, aims to transfer data in a large area WSN. Application Layer, data processing and application services providing are two major purposes of the application layer.
Exhibition Profile
Since 2009, during the past 9 years, the scale of this expo has expanded fast with its influence far reaching. The event attracted 450 exhibitors and more than 50 000 visitors in 2016, visitors are from 20 countries - China, Australia, Canada, Egypt, France, Germany, India, Iran, Italy, Japan, Korea, Malaysia, Pakistan, Portugal, Turkey, Russia, Singapore, Saudi Arabia, the UK and the US.
IOTE widely invites RFID/ Smart Card/IoT technology vendors, end users, information service providers and integrators to communicate face to face. The expo has been acknowledged as an effective and swift channel to acquire information from the industry and as a professional platform for product trading and new product promoting.
2018 (10th) China International Internet of Thing Exhibition is the largest and most comprehensive IoT expo in Asia. It showcases the whole IoT industry chain, covers perceptual layer, network layer and intelligent application layer of IoT. It exhibits the technologies of RFID, sensor network, short-range communication, financial mobile payment, middle-ware, big data processing, Cloud, real-time locating, and etc; It also shows the IoT solutions and applications in various industries, such as transportation, manufacturing, smart grid, smart home, logistics, anti-counterfeiting, attendance, military, asset management, apparel, library, smart city, environment monitoring.
Highlights
1)A Complete Showcase of the Whole IoT Industry: IoTE is a complete showcase of IoT industry chain, includes IoT perceptual layer ( RFID, Smart Card, Smart Sensor, Bar Code, Cameras ), transport network layer ( Bluetooth, 3G/4G, Zigbee, GPS, GPRS , WIFI, WSN ) and Intelligent applications layer ( Cloud, Mobile Payment, RTLS, Smart Home, and etc)
2)Promotion from 200+ Major Medias :IoTE works with major medias from various industries, such as logistic, automation, finance, retail, library, apparel, medical care, military, automobile, aerospace, agriculture, and etc, to give IoT continuous reporting coverage both online and offline.
3)International, Professional Buyers :With many years of marketing efforts and gigantic capacity of IoT manufacturing of China, in 2016, there were more than 2000 international buyers from 39 countries and ares visiting IoTE 2016.
4)High-end Conference leading Industry Trends :There are more than 10 top conferences & forums during exhibition, topics covers IoT, RFID, mobile payment, NB - IOT, smart home, smart hardware, wireless communication, printing electronic, IoT standard, IoT application. IoTE invites officials, research organization, manufacturer, end user gather together to discuss the latest trends in IoT industry.
5)Application Integration Oriented:One of the most importance things which IoTE puts a lot efforts in is the invitation of end user and system integrator. It provides a effective platform for the interaction between IoT product provider with system integrator, system integrator and end user, promotes the cooperation among the upstream and downstream of the whole industry chain.
Exhibits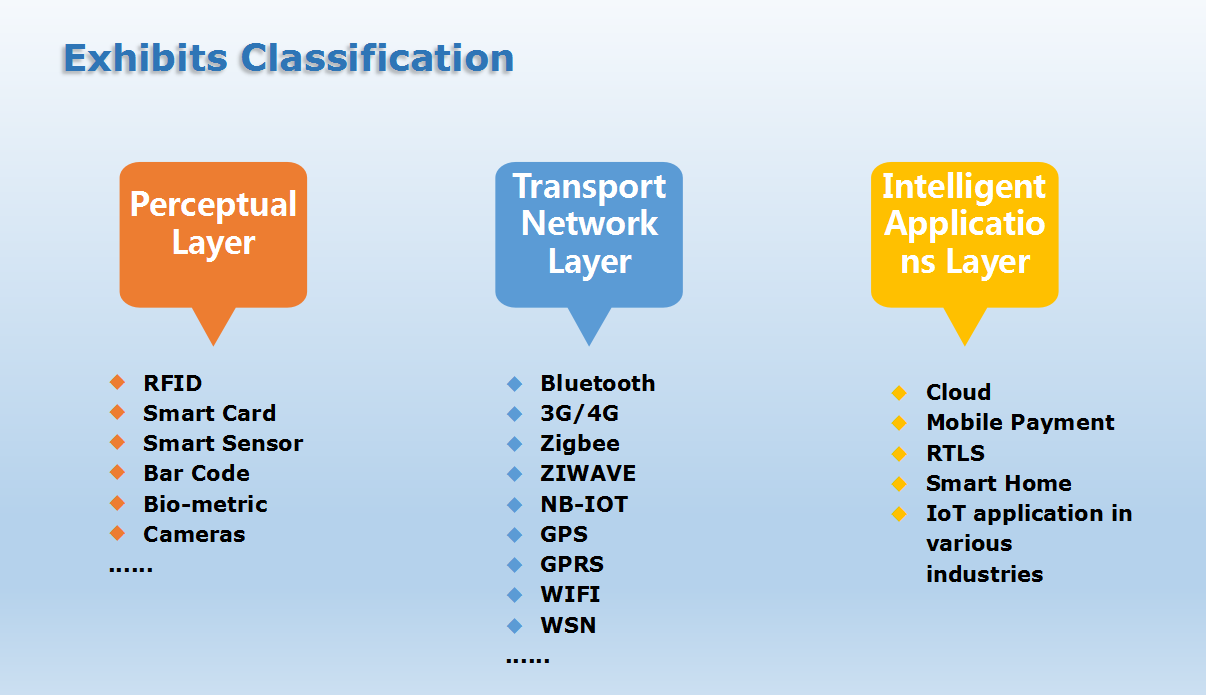 RFID Products
1. RFID Chip (Compliant with LF, ISO15693, ISO14443, ISO18000 and EPC standards)
2. RFID label antenna (made of aluminum, sliver, copper, and etc), productive machine of RFID label antenna
3. RFID standard cards or RFID labels
4. Special RFID tags (with special form, or applied in extremely environments, such high temperature, high pressure, metallic and chemical environment)
5. Manufacturing machine of RFID card or labels (such as RFID label converter, card converter, detecting machine), battery, conductive sliver paste, microwave absorbing materials, permeability magnetic material and R RFID testing and measuring devices
6. RFID reader chips (UHF, HF, LF, compliant with ISO standards or protocols)
7. RFID reader module (UHF, HF, LF, compliant with ISO standards or protocols)
8. RFID reader (UHF, HF, LF, compliant with ISO standards or protocols)
9. RFID reader antenna (UHF, HF, LF)
10. RFID handheld Reader, PDA, Forklift-mountable RFID reader
11. Active RFID products and systems (433MHz, 900MHz, 2.45GHz, 5.8GHz active tag, reader, antenna and system)
12. RFID middleware
13. NFC technologies and products Smart Card Products Chip Manufacturing Design, research and manufacturing of IC card chips; wafer chips manufacturing technologies and raw material.
Smart Card
1. Smart Card Manufacturing
Contact and contactless IC cards and combined IC cards, CPU cards, memory cards, unusual cards, IC cards and module manufacturing; protruding printing, lamination and mold pressing of IC cards; customized image identification of IC cards; IC module converters.
2. Manufacturing material of cards
PVC cards, plastic cards, PET cards, reprintable memory cards, inks, films, and etc.
3.Smart card reader
Magnetic card compliant with PBOC 2.0, ATM and credit for load, IC card cash register, secure access control of computer and internet, IC card detection technologies and devices; access control and IC cards, IC card security testing devices, all kinds of external card readers, and POS terminals.
4. System Integration
Various types of IC card systems, especially for all-in-one card (all-purpose card) system.
5.Other Intelligent Identification product and system
Bar Code System includes bar code label, printer, scanner, software.
Biometric Identification, such as fingerprint identification, intelligent face recognition, iris identification, palm print identification.
6.Safety Monitor and Control System
Bar Coder:
1D/2D bar code printer, hand-held bar code scanner, fixed mount bar code scanned, ribbon, bar code ribbon, label, designing software of 1D/2D bar code label
Information Communication technology and product:
Core product and equipment of short-range communication and self-organized network, includes NB-IOT, LoRa, WLAN, UWB, Zigbee, NFC, MESH, Wimax, WIFI, HF RFID, heterogenous networks, interface of sensor network, product and equipment of access network
Bio-metric Products :
Fingerprint identification: fingerprint lock/access control/attendance/U disk/collecting device/mouse/safe deposit box/removable drive/module/POS/identification system Face identification: Face identification access control and attendance system Face identification Module: Iris identification, palmprint identification
Sensor, Sensor Network Node:
All kind of low-power, miniaturization, high-performance physical/chemical/biological sensors, sensor network node, 2D bar code and reader, RFID label and reader, multimedia data collecting, RTLS and GPS
Smart Home:
Generic cabling, network communication, security measurement, automatic control, video/audio product
Kernel Control Chip and Embedded-in Chip:
All kind of IoT controller chip, includes: MCU, DSP, ADC, GUI, MEMS, protocol chip, micro-power chip, interface chip, and integrated chip.
Network Architecture and Data Processing:
SOA, IoT Cloud, the product and equipment of network and information security, the storage and processing of big data, IoT address coding
Concurrent Event
(1)"2017 (The 10th) Shenzhen International IoT and Smart China Conference"
Aug 16, 2017 Shenzhen convention & exhibition center
(2)"2017 (The 11th) RFID World China Conference"
Aug 16, 2017 Shenzhen convention & exhibition center
Exhibitor Say
Kuanglili, Marketing Manager of Postek

The development scale and growth of IoT industry has rapidly in recent years, and the market prospect is very broad.IOTE has been the industry's most professional exhibition, and played a link role in provided the latest and most professional information for the global IoT industry.As a IoT RFID print solutions provider of technology leadership and service efficiency, Postek participates in the exhibition every year, and displayed its brand Postek and related RFID label printer, Postek RFID printer is automatic sorting system necessary printing equipment which supports 12 mm height ultra small electronic label printing and anti metal flexible label printing, and guarantees 100% electronic label pass rate.Postek hopes that the IOTE will continue to be the platform which is professional, service flexibility and provide a more comprehensive and mature IOTE technology and applications platform to exhibitors and audiences.

Lulu Chen, Marketing Director of Invengo

"The expo provides a high-effective platform for Invengo to showcase our leading RFID apparel & retail solution, and communicate with clients face to face. This year, we debut Invengo global RFID apparel & retail personalized solution and its products & services, including supply chain and store management, label printing and data management, it attracts much more domestic and international professional visitors than we expected. High-quality visitors, reasonable layout, excellent expo service, we think highly of IoTE, and will continue our cooperation in future, see you in IoTE 2017."

Shuxian Lu, Marketing Director of Mango

"With the help of this leading exhibiting platform, we are exhibiting a series of new products and new applications, to provide clients with high-performance, market-oriented product. We attracts many potential buyers in the three-day exhibition. Mango will continue devoting itself in IoT industry, best wishes to IoTE"

FeiCao Yun, General Manager of Clou Electronic

"IoTE is an annual festival for IoT industry, we can see the development of IoT industry every year, the good thing is the number of buyer, system integrator and enthusiasts is growing, people who came to consult product and seek solution are more professional, which means RFID now is becoming universal in China"

Peng Wu, Sale Director, MüHLBAUER

"This is our fourth time to attend IoTE, we exhibits IC card thermographic printing machine and RFID label personalized equipment, attracts a lot attention from exhibitors and visitors. IoTE is the largest and most professional IoT expo in Asia, not only we can showcase our latest product and technology, but also we can communicate with our old friends and new clients, and get to know the situation of our competitors, MüHLBAUER is stable, long-term client of IoTE."

Wei Zhang, Sale Director of Chainway

"This year, we brought the full range of high-performance, industrial-strength Smart Terminals to the expo. IoTE is the largest expo of its kind, attracts major IoT companies get together to exhibit their latest products and systems. The expo is crowded with tens of thousands of visitors, it's really a perfect platform to showcase our product, technology and new concept, it also provides a great opportunity for exhibitors to stay connected with old clients, explore new ones and catch up the latest industry trends. All these years we have built a strong strategic relationship with IoTE. "

Guangwang Zeng , General Manager of CV Microelectronic

"CV Microelectronic is professional chip manufacturer on smart card and security system, we have been participating in IoTE for many years, we have exhibited multiply chip products, includes our independently developed high-performance dual-interface security chips. IoTE provides a great communicating platform for the companies in smart identification industry, its a extremely hep for RFID development and market exploring, we wish it will be getting even better in near future."

Ruihua Cai, General Manager of Silion

"Since 2009, Silion has been attending IoTE for 8 years. This year, the expo is expanded its exhibits range, not just about RFID, it introduces a lot new emerging IoT technologies, attracts much more international IoT companies to attend, the number of visitors is increasing significantly, especially international visitors from East-South Asia, South Asia, Middle East, Europe and America. As exhibitor of 8 years, we can feel the improvement the organizer made every year. We are exhibiting our award-winning RFID module SLR5300, blue-tooth hand-held reader, receives great reviews from visitors. We are full of hope that our business will getting even better with IoTE."

Qi Zhaoyong, General Manager of Shenzhen CaiNa

The show become better and better. And more and more professionals and Foreign visitors get involved with it. We hope IOTE constantly expand, and Internet of things industry is becoming more and more prosperous. we will do our best to bettering products and provide good services.
Promotion
Promotion from 200+ Major Medias: IOTE works with major medias from various industries, such as logistic, automation, finance, retail, library, apparel, medical care, military, automobile, aerospace, agriculture, and etc, to give IoT continuous reporting coverage both online and off-line.
TV, Newspaper, Magazine:IOTE works with local TV, newspaper to give continuous reporting of the exhibition, such as Shenzhen TV News Channel, Shenzhen TV Finance Channel, Southern Metropolis Daily, Shenzhen Special Zone Daily, Shenzhen Economic Daily, Ching Po Daily, Shenzhen Evening Paper, Hong Kong Commercial Daily. One month before the opening of exhibition, Name, booth No and company profile of the exhibitors will be presented on IoTworld and RFIDworld, which are most popular IoT and RFID website in China, to attract more visitors to the show. Ulink Media will work with major medias to organize a interviewing & reporting team, to give exhibitor and its exhibits a comprehensive report.
Sending out invitation letters:Sending out 50,000 invitation letters/ tickets by visiting other relevant exhibition and by postal, 200,000 SMS, adopting buyer's pre-registered system to make sure the high quality of visitors
EDM:Email campaigns based on Ulink Media big database of 20,000 registered accounts from RFIDworld, IoTworld, Yktworld, Ilovesmart.
Telephone invitation :Telephone invitation 2 months before the exhibition based on our big database of 20,000 members of IoT industry.
Social mediasUsing Weibo, Wechat, QQ , Facebook,Twitter and other popular social medias, online & offline activities to attractive visitor from the whole IoT industry chain
Some exhibitors
Participation Fee
Date: April 25-27, 2018 Venue:Suzhou International Expo Center
Date: July 31-Aug 2, 2018 Venue:Shenzhen convention & exhibition center
Booth:
Standard booth:at USD 3000 per booth
Space only: at USD 300 per sqm
Space only: Exhibitors should notice that NO facilities would be provided in Space-only, so they could only set up and decorate their space by themselves or by assigning others to handle it. Each standard booth provides: Carpet, 3 side walls, a company name fascia board, 1 fluorescent tube, 1 information counter, 2 folding chairs.
The largest and most comprehensive IoT exhibition in Asia!